I am coming off a week of infusions and feeling way too yucky to party but it's The Banker's birthday and saltines and ginger ale are a poor substitute for cake and champagne so we will have to postpone a proper fête. In the mean time, here is a little toast to my bae.
This is a song I wrote and recorded with my Brooklyn Bestie. It is for and about The Banker and his incredibly hopeful, enduring and sustaining love for me. Through all the murkiness of life with MS he sees sunny skies and endless possibilities. When I am my grossest, he somehow maintains the best version of me. And 
when the noise in my head gets too loud I always know I can turn it off and
 give it over to him. He just seems so certain, to know absolutely where the light is.
We climbed another hill today
and looking back I can't believe how far we came
And knowing that you'll catch me I feel I could fly
Through your eyes 
I'll always see 
an endless road stretched out beneath my feet
and through your eyes I'll always be
the best of all the guesses kept inside of me
I see the future and all my fears subside
I see it through your eyes
We watch the daylight fade away
and one by one the stars all try to take it's place
moonbeam shadows dance and fold
but in your arms I barely feel the cold
I'm right where I dreamed I'd be
you're right where I dreamed you'd be
Wherever you are is where I wanna be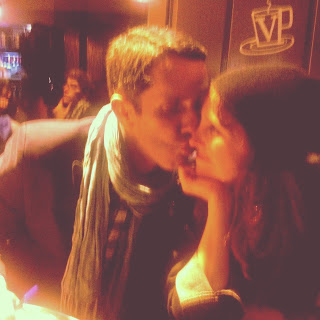 Happy Birthday to The Banker