March is Multiple Sclerosis Awareness Month and you don't have to tell me twice. Oh, I'm well aware of Multiple Sclerosis. MS screams in my face all day long and then wakes me up at night.
And thank God it's almost April, because I'm so sick of seeing orange ribbons everywhere and hearing about MS from every news outlet. 
Oh wait. I mean the opposite of that.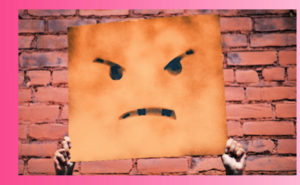 Sit down. It's about to get rant-y in here.

Unless we're talking about a package from Hermès, my favourite colour is decidedly not orange, but as the official colour of MS Awareness Month it's lack of visibility is actually a little troubling, because we need considerably more awareness. MS is poorly understood, grossly underfunded, and affects a staggering amount of people. 
When we do hear about MS the message is confusing. Even within the MS community we can't agree on what that message should be. There is significant controversy about how this disease is portrayed in the media, and in drug company ads. The overwhelming majority of what we see are glossy images of young and healthy people doing athletic things, smiling and happy. The kinds of pictures that entice us to try new medications. They're the pictures of what we all hope to be. They serve to soothe and comfort the public that the number one neurological disease affecting young people worldwide is manageable. They promise good health with a simple pill, maybe a teeny injection. These images are well received by many patients for whom this ideal is even remotely possible, and can be especially comforting to the newly diagnosed who are looking to see what their lives might come to look like.
When I was diagnosed I read everything I could. It was terrifying. I attended a support group and wanted to throw up the minute I walked in and saw people who looked sick. I never went back. I hated the MS Walk because I couldn't bear to see people in wheelchairs. Instead of compassion, my own fear was reflected back at me. I felt panicked over my future. Seeing the effects of MS was more than I could handle. These were not my people. I was in my early twenties, dating and pursuing a career. I wanted to see the people who looked like me; the people who were doing well, the people who could reassure me my life wasn't falling apart. I remember someone pointing out a woman in her 40's who walked with a cane. I was told "She's had MS forever and she only needs a cane". Only? I swore I would never become that sick. As someone newly diagnosed, I wanted to protect myself from the scariest stories; the more images of people with MS pursuing 'normal' lives, the better.
At the other end of the controversy are those that are angry at the  'normal life' depiction of MS. Who feel outraged that the dancing, rock climbing, happy, ice-cream eaters are not a true representation of what MS actually looks like. After 15 years of MS, I get this too. I know it's tragically laughable to promise yourself you will never become so disabled as to need assistance walking, and yet I still hear others make this promise to themselves all the time. I also know how hurtful and utterly douchey it is to say this out loud. For clearly the implication is there are those who simply didn't try hard enough to keep from progressing. I understand why people are pissed to see this Pollyanna presentation of the disease that looks like a lie for so many and that leaves their experience with it completely ignored and invalidated.
The message about MS is murky because the disease itself is murky. It presents dramatically differently from person to person. Even within the same person from year to year. My own disease looks nothing like the disease I had ten years ago. My story is different now and so is the information I need, want and can handle. As patients we can't agree on one simple narrative because there isn't just one. What we all have in common is an uncertain future and a need for more action, for the best minds of medicine and science to attack this head on. Yes, many live a long time without much progression. Tell those stories. 
But tell the other stories too. 
Because as comforting as the best case scenario may seem, there is real danger if we only tell that story. When we sugar-coat the potential of MS we end up in a society under the false impression that MS is under control; that we've got it figured out, and shouldn't we move on to the next thing? We end up in a world where people ask "Why don't you just take that drug I saw on tv? Doesn't that fix it?", or "Didn't we cure that with stem cells last week?" 
The truth is MS is most definitely not under control. Even if these drugs benefit some, they are only capable of impacting a fraction of MS cases. We've spent billions developing new therapies to modify disease – why are so few research projects looking at determining the underlying cause? Because the drugs we have are simply not enough. None provide a cure, and none address the underlying cause. They are wildly expensive and have plenty of serious side effects.
Educating is not about spreading negativity. It's not about fear mongering. It's certainly not about failing to celebrate all the wonderful things people with MS on any spectrum of the disease can and do accomplish. But let's nor forget, MS is a brutal disease. There are no guaranteed outcomes but we must give voice to all possible outcomes. We cannot, and we must not, ignore those who embody our worst fears. 
People with more progressive MS are being erased from the conversation. 
When we fail to raise any alarms about MS we fail to mobilize the necessary resources to do the research and the work that so desperately needs to be done. It's in everyone's best interest to get this thing cured no matter how well you think you're doing. 
In the MS narrative the story about how you can live a full life with MS already seems to be getting its fair share of attention and that's good. There's an important place for that. But we need to tell the whole story. The number of people living with MS is shocking. In Canada alone rates are as high as 1 in 1000 to 1 in 500 in some places. Orange is indeed the colour of MS Awareness. It's also the colour of warning. We need to sound the alarm. It's time to tell the whole story.