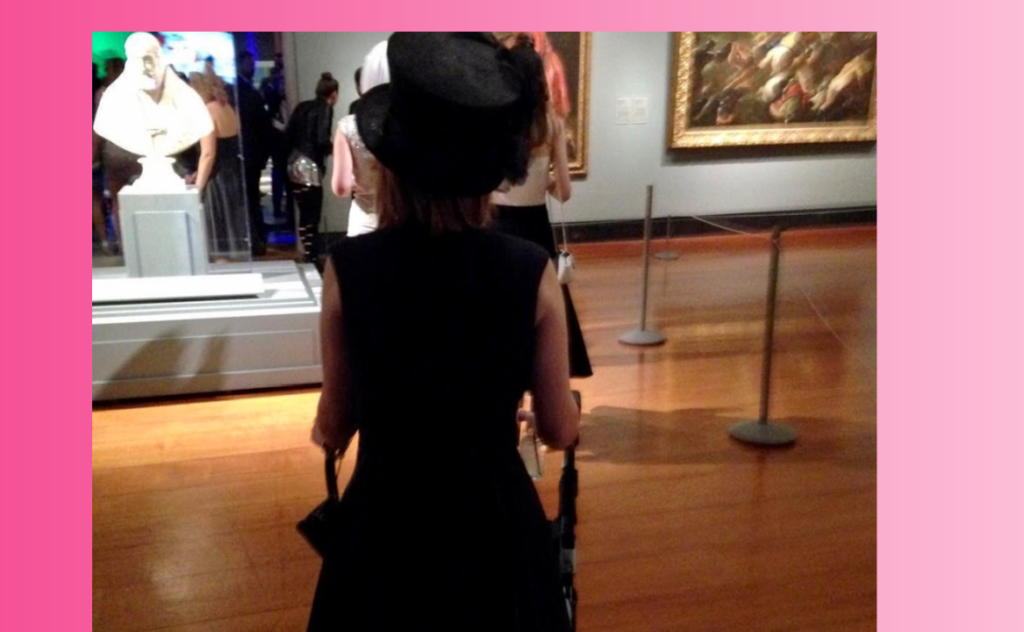 The morning after a wild night out, I did what any proper party girl would, and sifted through the 4 million photos and selfies I'd taken the night before, deleting any that were blurry, where my hair looked weird, or where my lazy left eye made me look just a little too drunk.

I am not a photo-realist.

Then, I updated my social media with the most perfect pics of my glam and exciting life, all before brushing my teeth.

 
The Banker and I had been to a gala event in the city with about 1900 of Toronto's coolest and most cultured, art-gallery types. The requested attire was Steampunk, which I nailed, thanks to a crazy hat from my mom's

vintage collection

. I knew I looked good and so did everyone else. I got loads of compliments from the beautiful people of the 6ix, of which, for that night, I was one.  
I know this for a fact because I was even paparazzi'd. I was delighted when a media photographer asked if he could shoot me, claiming the hat had caught his eye. This old thing? I immediately obliged, grabbing my cane and striking my sassiest pose after unceremoniously pushing Optimus Prime, my convertible rollator, off to the side and out of sight.
Wait, what?
Under a disco ball and the influence of more than one cucumber martini, for the sake of the photo, I pretended not to know, or need, my rollator. I didn't think twice about my epic diss to Optimus until the next morning as I reflected back on the evening's festivities. It went like this: happy memory, happy memory, uh-oh memory. You know, the one that shows up once you've sobered up and start scrolling through your mental inventory of the events of the previous night, scanning for shame? Who did you drunk text? Who did you wake up next to? Who did you offend?
Turns out I offended a robot, but that robot has a name and it's  

Optimus Prime

. We have a complicated relationship and maybe he's kinda part of me and so maybe I kinda offended myself. 
WTF are you talking about? Are you still drunk?
Last year I wrote a piece in xojane about beauty and disability. I talked about how, as a society, we have trouble accepting that disability can be normal, and even beautiful, because we don't ever see it represented that way in media and that has a powerful effect on what we collectively believe. Now, a year later, I had an opportunity to be represented in this very context, in a hip publication – to do the very thing I've been rallying for – and I totally fucking blew it.
Let's be real. I've been shoving my rollator out of pictures since he arrived on my doorstep, and before that I was ditching my cane for pics that were private, never intended for a magazine or even a blog. In documenting my own life, I'm not trying to re-write history or deny my experience. We all struggle with how we look to the world. Selfies help us influence how we are perceived by others, but what about how we perceive ourselves?  
I don't like what I imagine others will think when they see an image of me with a mobility aid. If a picture is worth 1000 words, it feels like almost all of them are negative when it comes to looking at disability. I've been brainwashed like everybody else into interpreting mobility aids as symbols of my own brokenness. 
But what if they are symbols of perseverance? Of resilience? Can't I wear that proudly? 
Can't I just get over myself?   
I want to contribute to the message that disability can be beautiful, I really do – for society's sake but also for my own. I'd like to be someone who doesn't have MS, who doesn't need mobility aids. But I am. I know the best version of myself doesn't hide this, but handles it with grace. I know this and yet, I can't promise I won't do it again. 

Follow

Tripping On Air

 on Facebook, and on 

Instagram