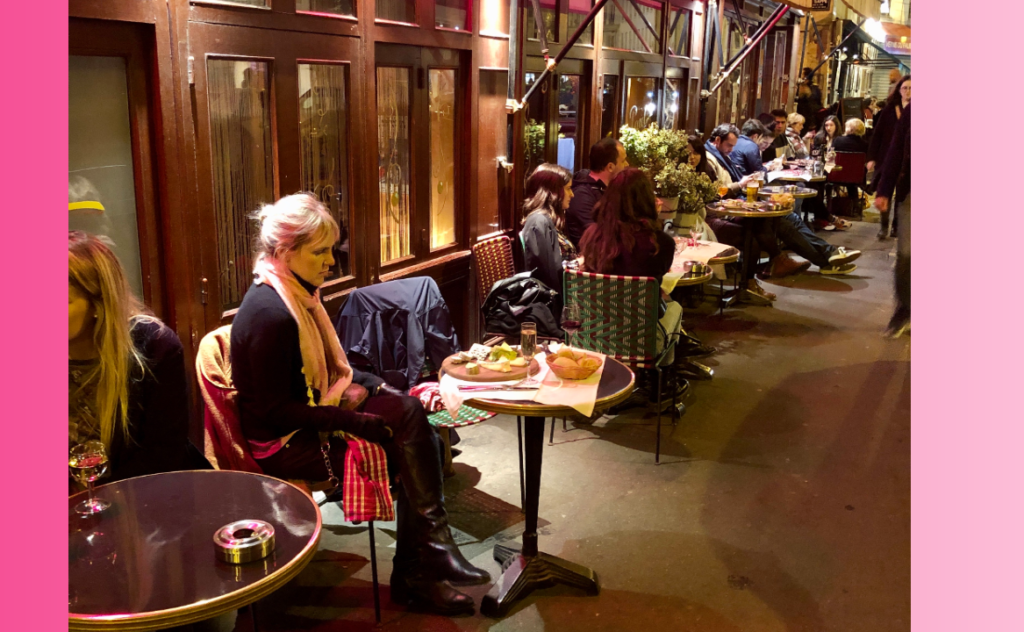 How To Make A Person With MS Feel Useless
Last week my well-meaning Uber driver was falling all over himself trying to help me, telling me repeatedly to take my time (like I have any choice), trying to carry my bag, dramatically taking my arm to guide me into the car despite me assuring him I was fine – and, oh yeah – please don't touch me.
Aw, he sounds sweet. You're a monster.
I'm not done. As soon as I'd put my bag down, I turned back to close the car door only to find this do-gooder right up in my grill, reaching around to BUCKLE ME IN. Like I was 4.
Wow, you must be pretty frail and helpless. Obviously you were on your way to the emergency room. Or was it a hospice centre? Wait, are you dying?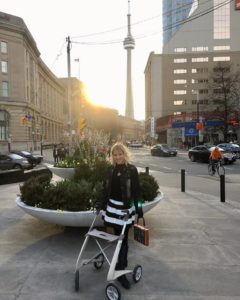 It's confusing because I use a rollator.
You should probably talk louder and slower.
Maybe this encounter sounds awkward but harmless, nothing more than a nice, if misguided dude trying to help a damsel in distress. But I'm more of a dame than a damsel, and I was hardly in distress. By now, I'm used to heroic displays of assistance and an over-abundance of caution. I tolerate my own discomfort, because what kind of asshole wants to offend someone who's just trying to help the handicapped?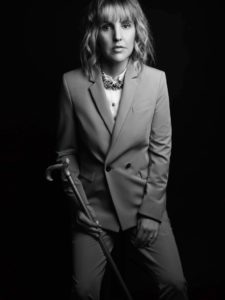 Dame Ardra of the Unfuckwithables
(photo cred: Alkan Emin)
Ardramatic much? How about if nobody ever helped you again? Would that make you happy?
I'm grateful for the kindness of strangers. But this stranger didn't believe me when I said I didn't need help. And that's not cool. What's worse was that in my mind I'm this strong, independent, gal-about-town; when I saw myself through his eyes, suddenly I was weak, needy, tragic.
You should probably take the bus.
Woah, let's not get crazy. Besides, it's not just ride-share drivers who are going out of their way to get some of that good karma. Lately, it feels like the state of my MS has most everyone convinced I can't do basic things for myself. Sigh. It's become a fun game for me to drop something in a crowded room, then try to guess who will be the first to leap up and get it. Pick-up Sticks, Disability Edition.
How do you still have friends?
I honestly don't know. But recently not one, but two members of my inner posse fell to their four collective knees and attempted to tie my shoelace. While they were fighting over which one of them is closer to Jesus, I sat there feeling like a 4 year old. Again.
Okay Snowflake, but isn't it true that just this week you accidentally turned the stovetop on from leaning on it, melting your Le Creuset salt grinder, almost setting the kitchen on fire? Didn't you drop your extra-large blueberry smoothie on the not-yet-purple carpet? Word is that after over-extending yourself to the point of exhaustion, you spent 27 minutes on the floor next to your sock drawer, wishing you could call 911, but you couldn't reach your phone.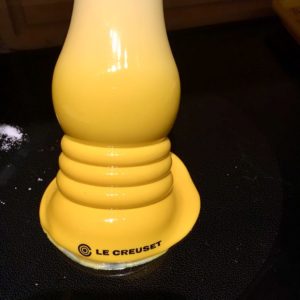 For the record, the salt grinder thing happened months ago.
I don't know who your sources are, but yeah, that sounds about right. It's true that having MS means sometimes I legit need help. I know this so bad, I feel like most of my sentences start with "Would you mind…", and every time I utter a "Sorry but, could you…", I taste bile. Constantly asking for help with basic tasks is a reminder of just how effed things are. "Can you help me take off my pants in a non-sexy way?" is a real thing I have said. As MS attempts to erode my identity as a badass bitch, doing the things I still can, even if it's hard for you to watch, is what I need to do to preserve my sense of self-worth. I know my people love me and want to support me. Message received. But I can't stress enough that my love language is presents – expensive ones – not unnecessary medical-grade assistance.
So you want help, and you don't want help. What the hell?
Imma break it down for you. If you don't want me to feel useless, just ask if I want help, instead of jumping in and assuming I need it (exceptions include assuming I would like a glass of wine, and assuming I would like another glass of wine). When you do offer to help and I say "No thanks", bonus points for believing me the first time, even if that means you might have to clean up macerated fruit and flax seeds off the floor. Are you serious? I'm sorry about the smoothie incident. I really am. But the carpet is fine, and to be honest I never loved it anyway. When I'm repeatedly asked, in that squeaky voice full of doubt, "Are you sure you don't want me to do this basic task that looks impossible for you…?", the message is that you're not convinced I can keep myself alive. I see you looking, holding your breath, waiting for me to fail at whatever it is you're sure I'm going to die trying to do.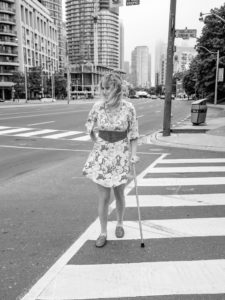 Back off, Boy Scouts. I got this.
(photo cred: Alkan Emin)
While the intentions of my trying-to-be-woke Uber driver were good, just as the intentions of the people who love me are, there comes a point when it's also important to keep in mind the impact of our actions. If someone told you you were smelly and stupid every day, you might put on deodorant, maybe pick up a book. When the world repeatedly sends the message that a person is incapable of doing things independently, the risk is that they will start to believe it. The day may come when I can't buckle my seatbelt or tie my shoe, and I will be hashtag blessed to have good people who are willing to help me, but please let's not speed up the process. Let me continue to believe whatever delusions I need to about myself, until I'm ready to accept and adjust to a new normal.
Okay. I hear you. But if I can't make a big show of unnecessarily holding open automatic doors for people with disabilities, how will they know I'm a good person?
One thousand good-person points for asking me to help you from time to time. Don't assume my suffering, my need, is always greater than yours. I mean, obviously I'm not gonna help you move, or kill a spider, but don't assume you can't ask me for something; my skill set is vast. I'm here for you, too. Just ask.

PS As soon as I finished writing this, I went to make a smoothie and this happened. Obviously I have no credibility and you should un-follow this blog immediately.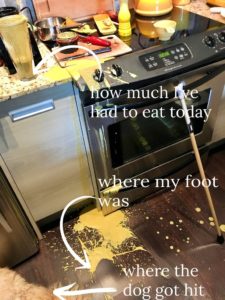 At least it wasn't blueberry.
Follow Tripping On Air on Facebook and Instagram. Or don't. I really don't deserve it. (But please do.)