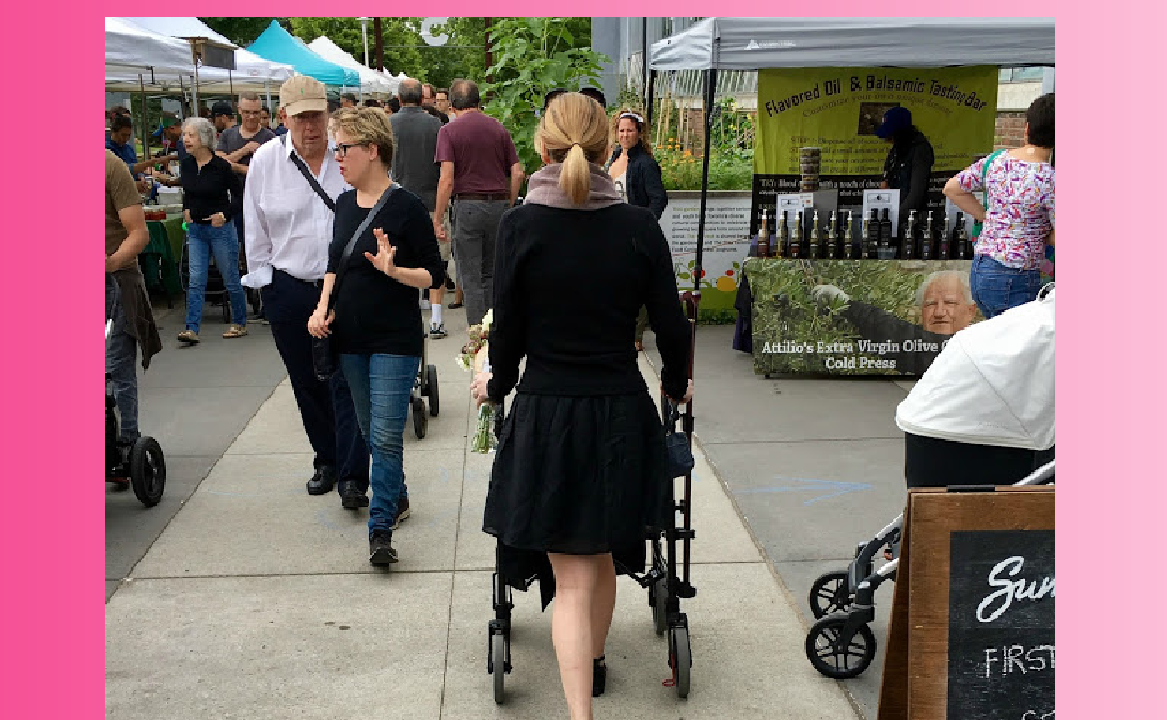 The 5 Frustrating Ways Lemtrada Didn't Cure Me
I finished round 2 of Lemtrada 15 months ago and last week I was asked by MS OnetoOne, the mandatory support program for Lemtrada users, for feedback as to how this drug has made a difference in my life. Until now, I've hesitated to write about my experience but they promised to throw in a $25 gift card for my trouble so, clearly the universe is telling me it's time.
I know what they're looking for, with their flashy prize money. Now that my treatment is over, they wanna hear about how I went from having a life ruled by disease and disability to one where I almost forget I have MS. They wanna hear how I went from laying around all day watching Golden Girls, to hiking the Himalayas and crossing shit off my bucket list; that I ditched my old lady aqua-fit friends because those blue-haired bitches were holding me back. 
Now I teach dolphins how to swim. 
This is not that story. I would never ditch Myrtle. And dolphins are jerks. But I really want that vague gift card (please let it be 8 bags of Miss Vickie's chips), so I'm hoping my less-than-miracle story still qualifies.
How Lemtrada Has Changed My Life
My Hair
The biggest and most noticeable change is that I have blond hair now. Obviously. I mean, it's the first thing anyone who hasn't seen me in awhile notices. It's possible that "OMG you're a blond now!" is more socially acceptable than "OMG you're using a walker now!" but I like to think the walker isn't all that noticeable. 
My grades are higher
When I started Lemtrada my EDSS was one whole point lower. I was walking with a cane, some of the time. Now I'm using a walker/rollator all of the time. Too bad MS is opposite world where things like 'progress' and higher EDSS scores are not going to make me an honours student. 
Secondary Autoimmunity
Lemtrada straight up murders your lymphocytes and 15 months after round 2, mine are still a little afraid to come back. If you have an autoimmune disease, your lymphocytes are your best frenemies who can't decide if they wanna kill you or save you, so they do both. You need those two-faced, back-stabbing lymphies to keep your immune system in check, so while mine are still low, I almost always have a UTI and if you sneeze within earshot, I will treat you like the leper you are. But exposure to Lemtrada opens you up to way more risks than just the flu (just the flu? I'd rather have herpes). Some risks are known, like thyroid disease and actual herpes, but since this drug is still new, others are a surprise, waiting to be discovered. Like the one I developed that has sent me to the ER several times and requires me to see a whole different kind of specialist. 
New Friends
Lots of people on Lemtrada make new friends during their infusions or through online forums. Personally, I'm on a first name basis with the nurses at the lab where I'm required to have a

donut

 and a full blood work up once a month for the next

million

four years. There's also my MS OnetoOne friend who emails and calls, uhm, a lot, to remind me to get this work done. I mean, I thought she was my friend. She asks a lot of super personal questions but gets wierd when I ask her the same. One time I didn't call her back or answer her email and I guess she thought I was ghosting her cause I got a crusty, collection-agent style letter. Priority courier. She's intense. I'm gonna stay on her good side and get my labs done on time, just in case. 
I have to explain myself way more
'Wait, didn't you get that beast of a drug that was supposed to stop all this shit?' is a question I get a lot. Annoying. I'm constantly explaining that it didn't work that way for me. Then I get to answer questions like 'Why don't you just get HSCT.' Cause it's not that fucking simple, Brian.
OnetoOne asked for what's different but maybe the good news is what has stayed the same. My MRI's are unchanged. In the 27 months since my first treatment, there's been clear progression from old disease but there's been no new inflammation. I haven't had new attacks and I should accept that as a good thing rather than simply seeing it as confirmation that I'm fully SPMS. We'll never know if things would have been worse or what kind of lurking inflammation may have been shut down. I don't regret my decision to deal with the devil – I think I'll always be willing to assume considerable risk for the possibility of being a little better. Lemtrada is an amazing drug. It just wasn't my amazing drug. And while I'm pretty sure my story won't make it to the manufacturer's marketing materials, it's important to tell all the stories, because we are far from conquering MS and there's still a lot of work to be done.

Follow 

Tripping On Air

on Facebook and Instagram.