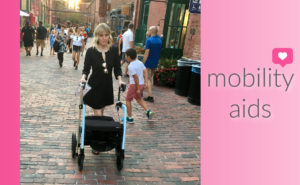 Cool mobility aids
You know the drill. This isn't medical advice. Talk to your doctor, your mother, your psychic, your dog. I'm just a blogger with a credit card, a sucker for pretty things.
That said, I personally did not get great medical advice on this subject. Even after fracturing an elbow, even after splitting open my scalp, I was never encouraged to use mobility aids. While my friends and family were supportive, nobody was exactly championing mobility aids, even when my drunk-walking started to get dangerous.
I only had bad things to believe about canes, walkers and wheelchairs and was hell-bent on resisting them. The silence of those around me did nothing to hinder my hesitation; my interpretation of the unspoken sub-text being that bringing home a mobility device would be akin to giving up.
Which is bullshit, of course. But, it would have gone a long way if someone had just said,
I'm proud of you for using a walker or
That's the brave choice, the strong decision
or
Did you lose weight? You look amaaazing.
Even badasses need reminding of their bad-assery from time to time.
But, I get it. Without role-models or roadmaps, we're all figuring this out as we go–those of us with MS and our squads. It took the help of the sidewalk for me to eventually realize that regardless of how I or others felt about it, it was time for me to pony up for a mobility aid (or two, or three…).
Different aids for different days
There are many types of mobility aids out there and this is by no means an exhaustive list. I started using a cane about four years ago, and have since added a rollator (which is a made-up word to describe a walker on wheels), plus a rollator that converts to a

transport chair

. Who knew MS would come with so many accessories?
Okay, poseur, if you can walk with a cane, why do you need a transport chair?  
First of all, it's poseuse. I'm a lady. Second, MS is complicated. Many wheelchairs users have some mobility and are able to walk. These are not unicorns, but ambulatory wheelchair users. When things like drop-foot, fatigue, and balance problems join forces to eff things up, temporarily using a transport chair can mean the difference between going out and living my best life, and sitting in my room with the lights off crying in the dark. Plus, it's fun to yell "It's a miracle" when some shade-thrower sees me get up from a chair.
Here's the skinny on the mobility aids I use to get around:
Cane
I live in a hip Toronto loft. Hip is code for so small you can use all your crammed-in furniture for support. When I'm at home I use my cane, the couch, and the walls to get around. The cane is also handy for poking the dog when she's in the way, which is always.
Canada has a shoes-off on the inside kind of vibe and I can feel your low-key anxiety when you worry I'm gonna rollator all over your steam-cleaned carpet, so I try to use a stick at someone else's house.
I avoid stairs like I avoid vegan cheese, or centipedes, but I can usually wrangle them with a cane if I have to. Except if I've had a glass of wine, which is always.
cause I'm bougie
There are some draw-backs to using a cane. Trekking poles can be a healthier, more balanced way to get around, but trekking poles require both hands, so unless Chanel wants to send me one of their backpacks, I haven't found this to be a super practical solution. Plus, you can't safely put a glass of wine in a backpack.
Canes have always been kinda fancy, so there's no need to settle for an ugly one (mine is from

canescanada.com

). Be sure to consider what material yours is made from before investing. Maple is beautiful, but more suited to syrup. I had to replace my starter cane because I dropped it the first day I had it and 85 times a day thereafter, leaving it as sad and scabby as my brain and spinal cord.
this cane has MS
Rollator
Outside, in the real world, I use a stylish rollator. Yup, I said it, stylish. My rollator provides way more support and stability than a stick. It helps me balance, and has saved my face from the ground so many times.
My cool looking rollator is from

ByAcre

, an award-winning Danish company with a focus on style, because hello, Europe. It comes with a bag that easily fits my laptop, or 2-3 bottles of wine, because if it's not 5 o'clock here, it's def 5 o'clock in Denmark. The bag is detachable, for when I don't want my ride to block my outfit, which is always.
Convertible transport chair
In 2014 I found myself trapped on a bench in the Marais, full of FOMO and exhaustion, sucking back tears and a sketchy French beer. I'd been using a cane, but needed to stop every block or so, until I just couldn't. I cried so many tears on that trip and especially on that bench where I remember sobbing, "If I can't be happy in Paris, I will never be happy again. NEVER".
The Banker and I travel a lot, but I didn't purchase Optimus Prime

(by Rollz Motion)

, my sleek convertible transport chair, for another 2 years after that sucky séjour. Because how the fuck was I supposed to know that sleek convertible transport chairs even existed? Or that that was exactly what I needed?
When we finally figured it out and invested in said device, the world opened up to us again. Now when we travel, I use OP as a rollator for as long as I feel like walking, and when I need a push, it quickly converts to a transport chair. It seems so obvious now.
Where were you when I needed you?
Where to find cool mobility aids
By now we've established that adding a mobility aid to your life can be empowering, and you don't have to sacrifice looking cool. If you need a refresher

click here

.
But not all mobility aids are equal. I had to sift through a lot of ugly, uninspired old-lady looks before I found the mobility aids that worked for me, that reflected my attitude, my style, my personality. The companies that are still designing for the blue-haired crowd are getting it wrong. Those geriatric bitches are dying their hair pink now, and if my own grandmother was any kind of indication of the sassy senior I hope to eventually be, I will still be a glamorous, fashion-conscious narcissist well into my twilight years.
Thankfully, there are some manufacturers who know that style matters; who know that it's easier for consumers to believe that mobility aids are not the enemy if they aren't designed to look like monsters. The industry is slowly waking up to the idea that people with disabilities actually care about their appearance. Like, duh. But we shouldn't have to rely solely on Scandinavia to provide thoughtful design. We need more options, and we need them to be affordable.
If you've got some sweet gear, please post a pic in the comments and let us know where you found it. And start tagging yourselves in social media with things like #babeswithmobilityaids

so we know where to find each other, and to let businesses know there's a demand for cool mobility aids.
Discounts on Rollz and byAcre mobility aids
Canadians can purchase the byAcre here.
Outside Canada go to https://www.byacre.com/ and use code trippingonair10 for 10% off.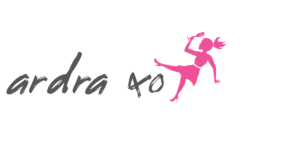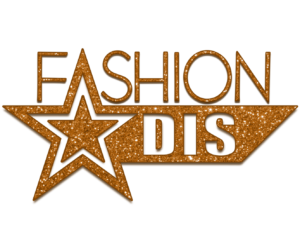 Stream Season one of Fashion Dis.