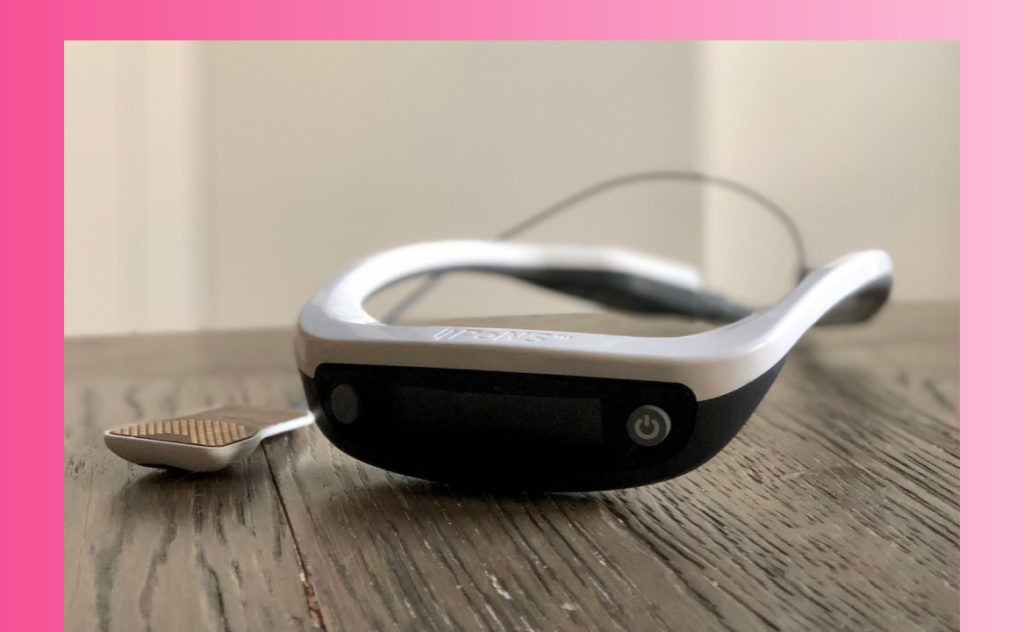 PoNS review: the good and the gutting news about a new treatment for MS progression
My trial with a new treatment for progressive MS using the PoNS device ended a few weeks ago. I've been late writing this review because a) I was busy filming a new tv show, and b) I've been waiting for some answers from Helius, the makers of the device. Okay, the delay is mostly because I've been waiting to hear from Helius, but get used to me casually mentioning that I have a new show coming that features the bad-assery of the disability community because omg you guys, I have a show.
But first, my PoNS review.
It's been a minute, so I'll remind you that PoNS is a portable neuro-stimulation device that sits on your tongue and tries to rewire your brain when MS has messed with your neural pathways. The hope is that with the magic of neuroplasticity you can retrain your brain to walk and balance better. For more deets check my original post.
And now the PoNS review you've been waiting for: a diary of my 99 days in the research study and a sneak peek, anecdotal, unauthorized spoiler of my results before the science–which you should definitely read–gets published.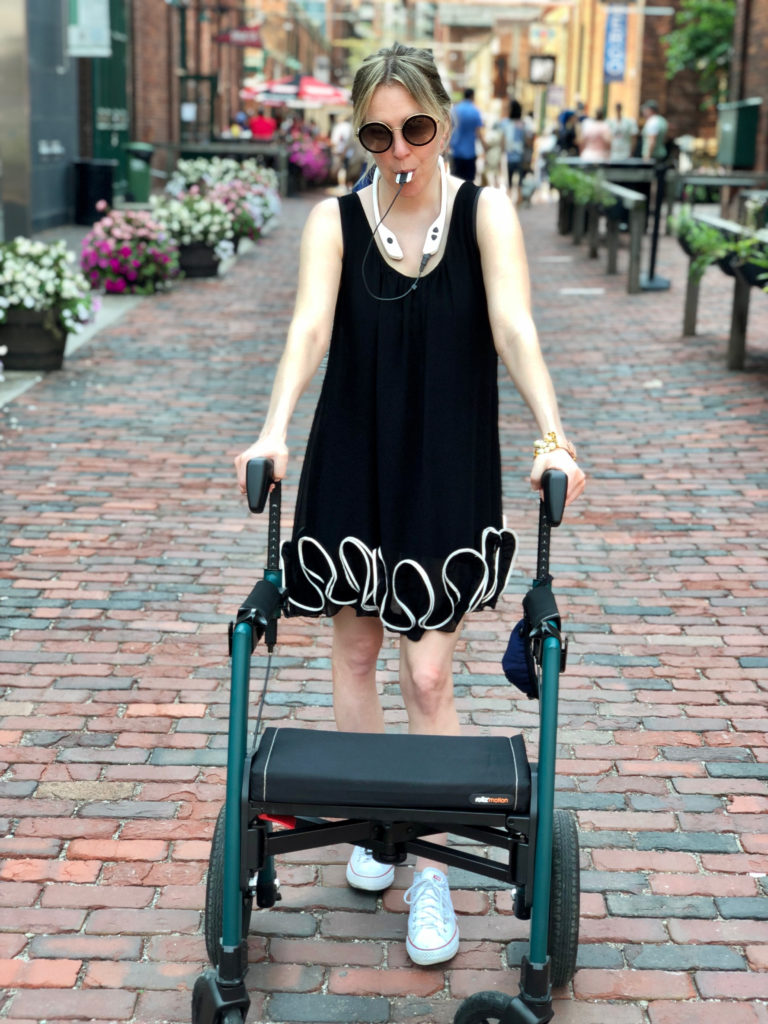 Day 1
My PoNS journey is being managed by Toronto's Venn Med Clinic. It's my first day and I'm feeling hopeful despite myself. I hit "publish" on a blog about the trial before heading out. Helius sees my post right away. (Is PoNS a cult? Am I being watched?) I know this because as soon as I arrive at the clinic I meet Christie, who will be coaching me throughout this journey, and learn that Helius has sent an SOS instructing her to tell me that what I'd said in my blog was wrong. I do not, in fact, get to keep the PoNS device once the study has ended.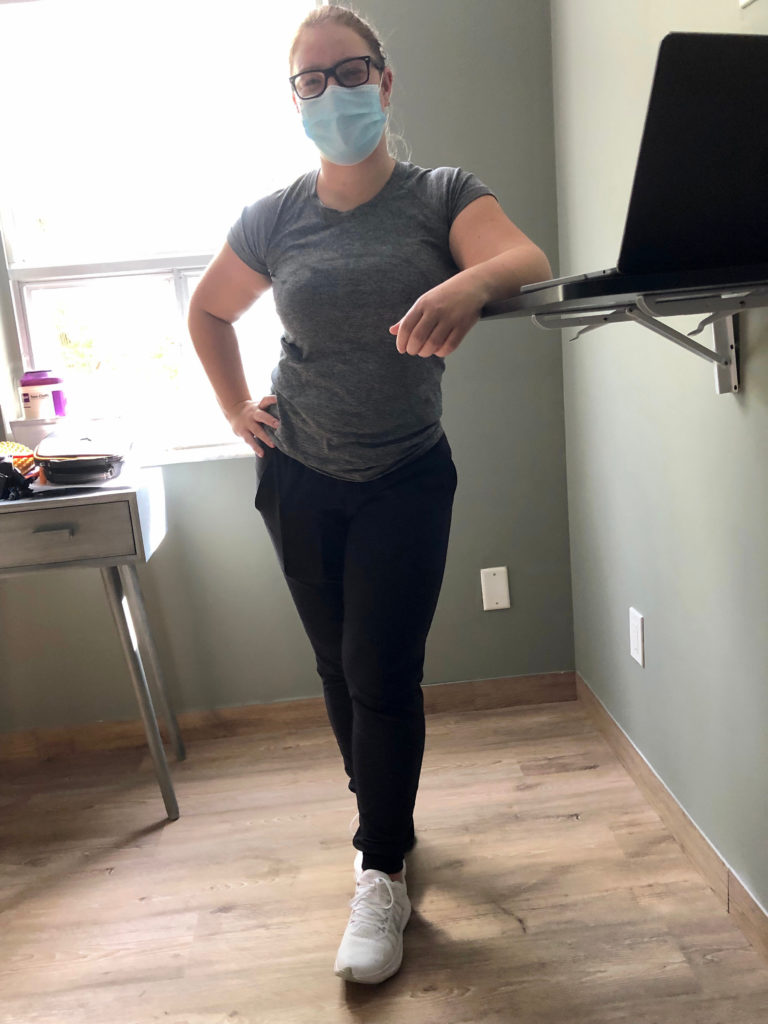 The rest of my care team includes Maria, a student, and Dr. Demien, who graciously lets everyone call him Daniel, and patiently answers my 1000 Qs, most of which are some version of "Is this really gonna help?"
For the next two weeks, I'll spend every afternoon at the clinic, doing targeted rehab, after which appointments will drop to weekly and I'll be required to do an hour of physio a day, on my own, for 12 weeks. This feels like a lot. Sort of. Because, how much can really change in three and a half months? 99 days is basically the lifespan of my mascara (note to self: replace your mascara), and the goal of this trial is to undo two decades of brain damage. And now it's 98 days because we don't actually use the device on day one. Day one is all about paperwork and intake evaluations.
The stats: my 25-foot timed walk takes 14 seconds with my rollator, and 24 seconds with a cane.
The diagnosis: slow af, but still walking.
Day 2
My first day using the PoNS. The mouthpiece is made of nickel and gold (fancy) and I'm asked if I'm allergic. This feels like a Q that should have been asked weeks ago, since anaphylaxis is kind of a dealbreaker. Fortunately, I'm only allergic to nuts, which I don't feel too sad about, because nuts might improve heart health but they can't do anything for my legs.
The mouthpiece is attached to a hard plastic device that sits around the neck. Rehab sessions are divided into 20 minute intervals which are counted down on a display screen that I can't see because I don't have eyes in the back of my head. I recognize that part of the reason PoNS is big bucks is because we're paying for research and development; so I make another mental note to tell Helius to throw a little more R into the D, as the hard to reach on/off buttons might be tricky for anyone with dexterity issues.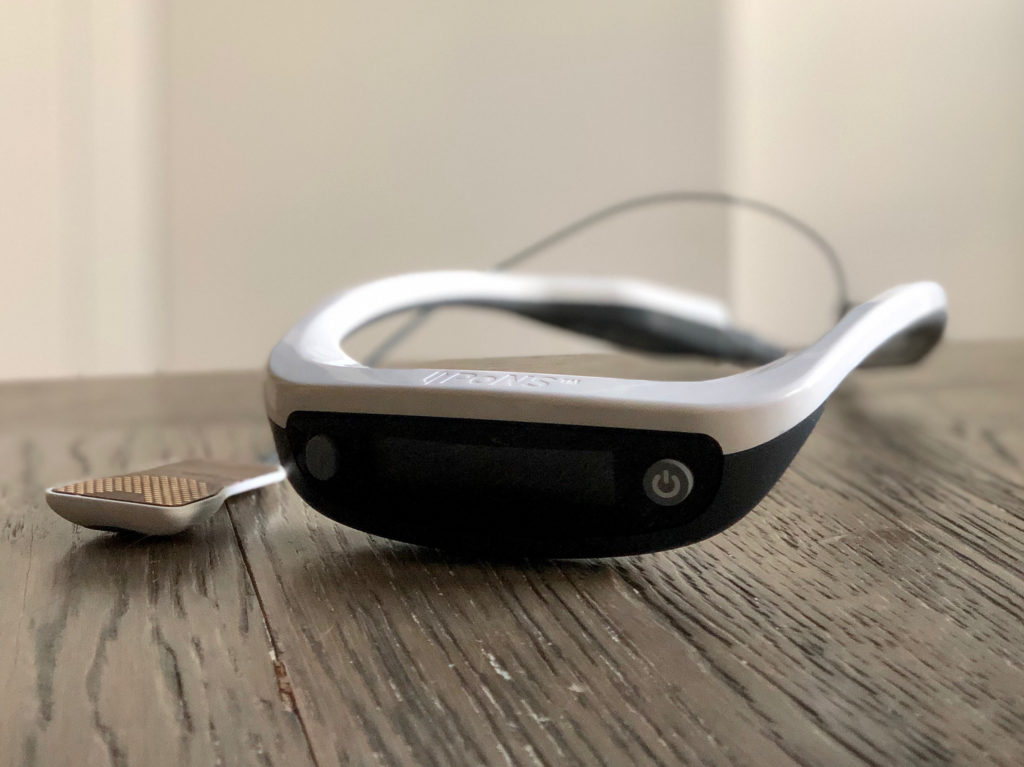 When I ask more questions about the mouthpiece, Christie casually mentions that it has to be replaced every three months to the tune of $500. Apparently Health Canada requires electrical devices that go in the mouth to have an expiry date. I probe some more. My electric toothbrush recommends I replace its mouthpiece every three months too, but I've been known to test these limits. Couldn't I do the same with the PoNS?
No. The answer is no. Whether you use your mouthpiece for ten hours or two thousand, after 99 days, it's programmed to die.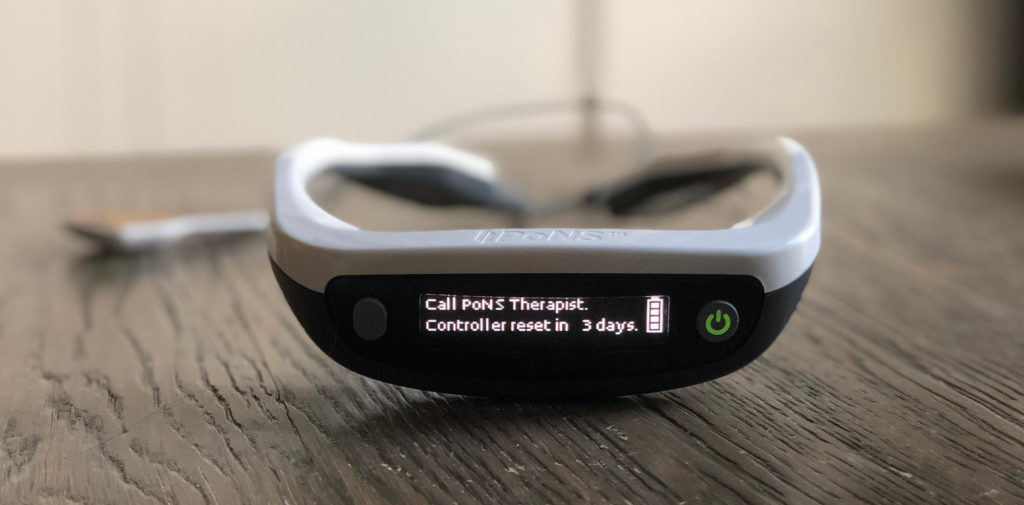 I turn on the mouthpiece and it feels vaguely like champagne bubbles on my tongue. I briefly wonder if I could just hack this process with real champagne, since that would be cheaper.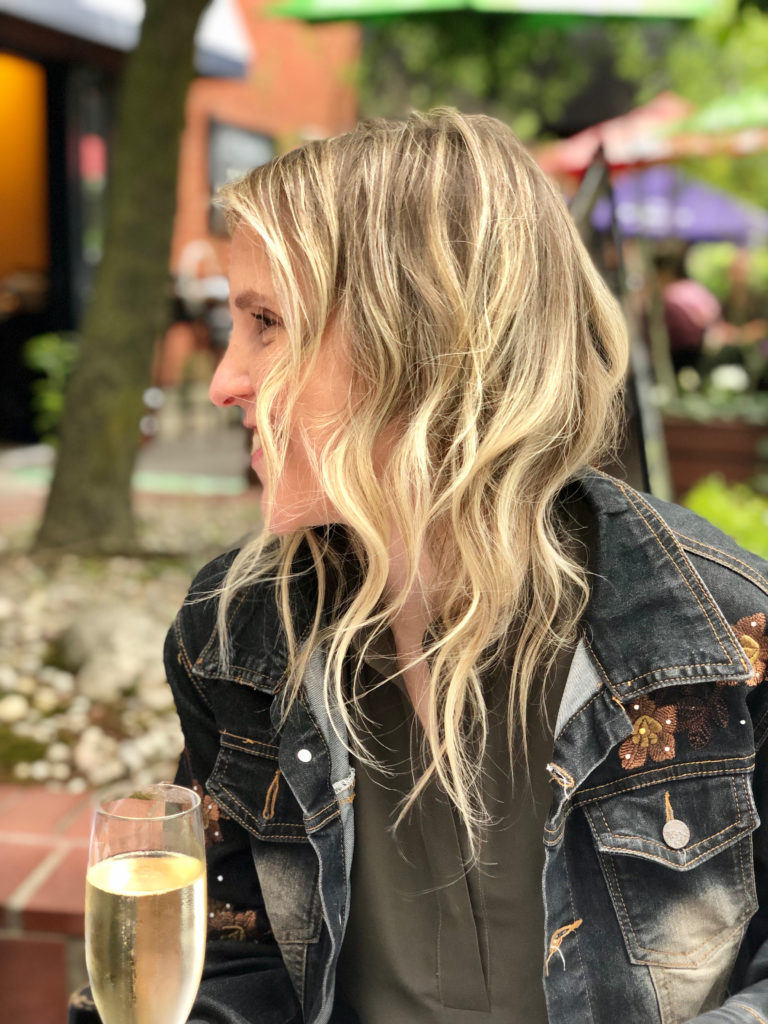 I'm still getting to know my PoNS (well, my loaner), and I ask if the battery life is similar to the suckitude of my iPhone. Christie throws me another btdubs–the device (the thing that sits around your neck that the mouthpiece plugs into)–has to be replaced every 3 years, when it Inspector Gadget-style self-destructs.
FML. Can PoNS get any more expensive? (Spoiler: It can.)
I try to put my crustiness about the cost aside. I'm introduced to electrically stimulated acupuncture, which proves to be an effective distraction. Electroacupuncture is like regular acupuncture but painful. Ish. It's more uncomfortable than awful, and anyway, I don't complain because I'm willing to do whatever it takes to make this shit work. (This shit: my walking.)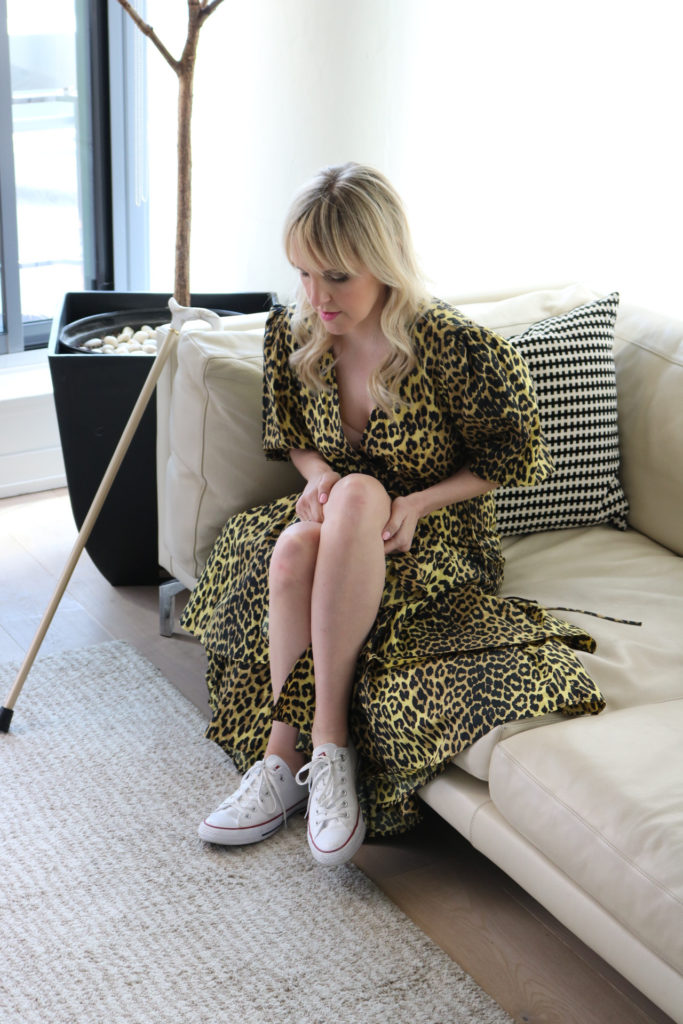 The acupuncture requires access to much of the right side of my exposed body which introduces a new layer of discomfort. I make yet another mental note not to wear period underwear tomorrow.
Sidebar: electroacupuncture is kind of a bonus of treatment at Venn Med. (I mean, it doesn't sound like a bonus, because, ouch, but I actually think it helps.) You may not receive electroacupuncture as part of your PoNS therapy. Then again, you could seek treatment with electroacupuncture independent of PoNS therapy, but that's a post for another day.
Day 3
I wear a shirt dress that barely covers my bum because it feels like the easiest way to provide lower body acupuncture access. It's not like Venn Med is giving out paper gowns. The room gets the full show and in hindsight, I should have worn shorts but I don't own any. I have no bum and I'm always bloated. I don't do shorts.
Christie tells me she sees encouraging signs, but I don't know. I've been to rehab before. I feel like cheerleading is what these guys are trained to do.
Later that night, I start to say, "I knew I would be tired, but I didn't think I would be this tired", as I full-on fall to the ground. The Banker offers to help me up, but I ask him to just let me lay there for a while.
Day 4
I have more electro-stabupressure and do exercises I can only describe as Tummy Time. Relearning to walk can feel infantilizing.
Unlike past experiences with physio, the majority of the work we're doing is extremely localized. I practice balance exercises, but the bulk of my rehab is hyper-focused on the areas that are the most impacted. We work the right leg almost exclusively.
Day 5
I'm asked to crawl on all fours, on a table, in my denim mini skirt. (Technically, nobody asked for the denim mini.) When Christie wonders if she can film me, I say no, and she doesn't seem surprised, confirming how obscene I look.
It's only my fourth day using PoNS, but we do some tests to look for improvements and there aren't any that feel meaningful. I've spent hours on a table just trying to bring my knee up towards my chest. It's hard to get excited about the possibility that my lazy right foot is (maybe?) everting a few degrees more.
I feel disappointed and anxious, like, something should have improved by now. Otherwise why else are they testing?
Day 6
It's Saturday–my first day off—and I wake up in a mood. My PoNS device is spending the weekend at the clinic and I don't miss it. I have a headache. I'm exhausted. It's a beautiful sunny day, but I'm too wrecked to leave my apartment. I spend the day contemplating how hard it is to have a disease that pretty much promises to get worse. I blame hope for setting me up like this. And yet, I know I still have to keep trying.
Day 7
2:52 a.m. I wake up in the middle of the night (as one does) and pull my knee towards my chest without thinking. It feels easy. I decide to try it again, telling myself that if I can do it one more time I will no longer want to die.
While The Banker sleeps next to me I do it 9 more times.
Suddenly, I'm a believer.
Day 8
At the clinic I can only manage a few partial knee bends with Christie, which is more than I could do last week but it feels crushing after what I did after dark. I start to wonder if I only dreamt those nocturnal knee bends.
Later, I will realize that re-learning to walk isn't like the movies. It isn't linear.
This is hard. Mentally, physically, emotionally.
Day 10
It's the last day of the phase of my PoNS trial that involves daily afternoons of physio. I wake up singing 'I don't wanna go to rehab', but without the singing. I can only do one knee bend in bed and wonder if I would have had this much 'improvement' if I'd done two weeks of rehab at this intensity without the PoNS device.
But then I do 10 knee bends in the clinic. Fast. I have witnesses to keep my brain from gaslighting itself. There's cheering. Maria says she feels like a proud mom, even tho she's young enough that she's never seen When Harry Met Sally. Neither she nor Christie have even heard of Nora Ephron and it's a good thing I didn't know this before I put my trust in them.
It's a massive win and the motivation I need to keep going.
Day 12
I sleep for 10 hours and still need an afternoon nap. Is all this neuroplasticity making me sleepier? It feels weird to be congratulated for sleeping 10 hours, but I don't know. Sometimes Fitbit just gets me.
Day 14
I wake up motivated and do 40 minutes of training before I have my coffee. I reward myself with a biscotti and an Americano and quickly learn that my taste buds need time to recover. PoNS kind of numbs them, and it takes a beat to be able to taste again.
Day 19
I show up to physio in vintage 1990's Adidas tearaway pants, having finally figured out what to wear to maintain my dignity while getting semi-clothed acupuncture, assuming dignity looks like a middle-aged woman dressing for a 90's rave. (It doesn't.)
Day 25
Am I getting better at walking after wine? Not like, better, better, but kinda?
Day 49
I test my 25-foot timed walk at home and I'm down to 7.49 seconds. I do it in 9.6 seconds with my cane.
Day 58
Fitbit tells me I took more steps today than I have in 3.5 years. I walked home from dinner on a patio in my hood, where I had two glasses of Chardonnay. I am getting better at walking after wine.
Day 65
I've been religiously tracking my daily walks around the block since the trial began. Today I clock 17 minutes, which two months ago would have been impressive. Now it feels slow, except I did it without my Dictus. I'm starting to say "I can't believe it" a lot.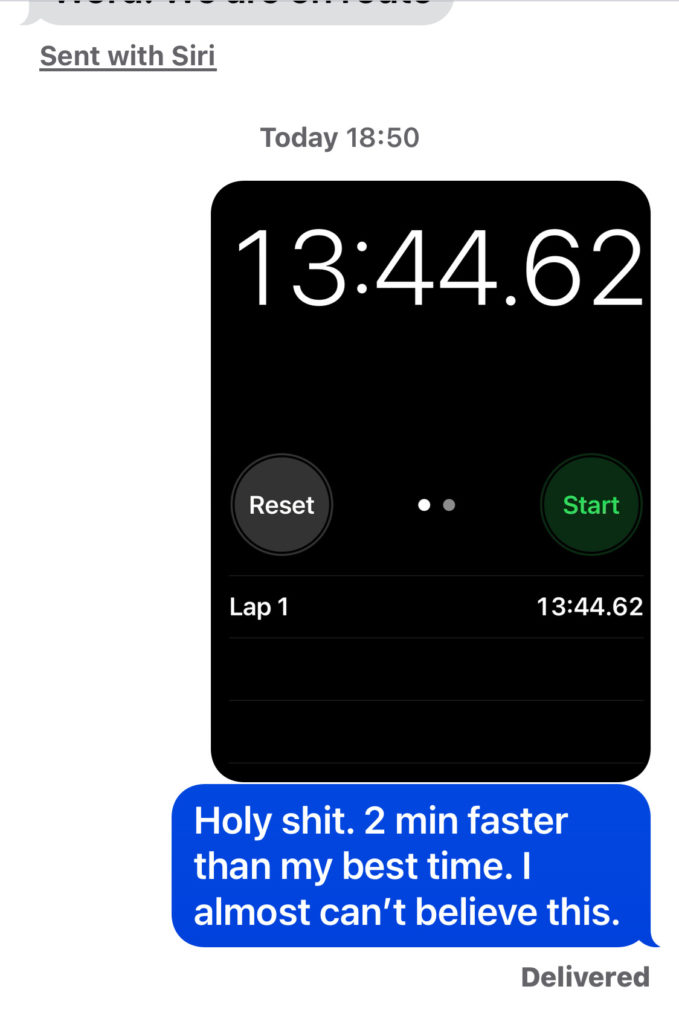 Day 89
It's my penultimate appointment and we're supposed to be celebrating my gains, but Christie is charged with yet again telling me that at the end of the year the cost of PoNS will be doubling to ten thousand dollars and the mouthpiece will jump from $500 to $2500 every three months. Is this a PoNS scheme? Like a savvy drug dealer, the first three months are free and once you're hooked on that sweet, sweet, walking high, they own you?
Christie does some retesting that confirms what we both know: I am stronger and faster: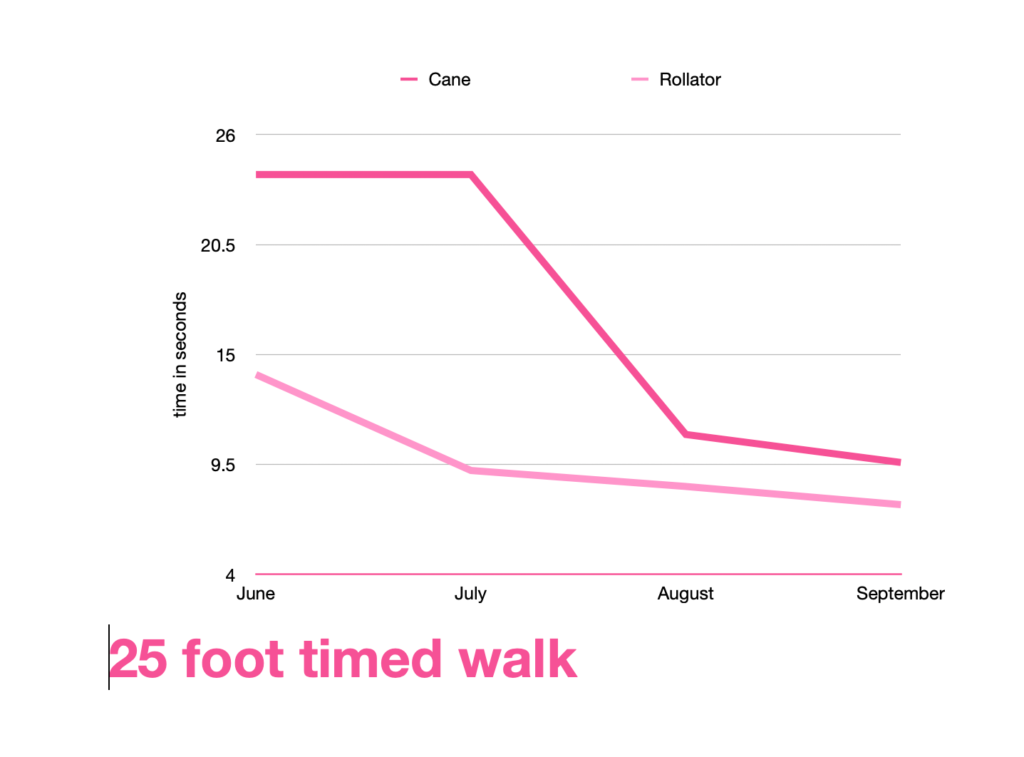 From the safety of my apartment, I've started to practice walking without any aids. Drop-foot means my right foot still needs to slide, but I'm able to stay on my feet, unsupported, in intervals of 20 minutes without breaks. I'm prepping meals without needing a chair. I feel safer getting in and out of the murder-tub. Don't tell The Banker, but I could probably start doing the laundry again.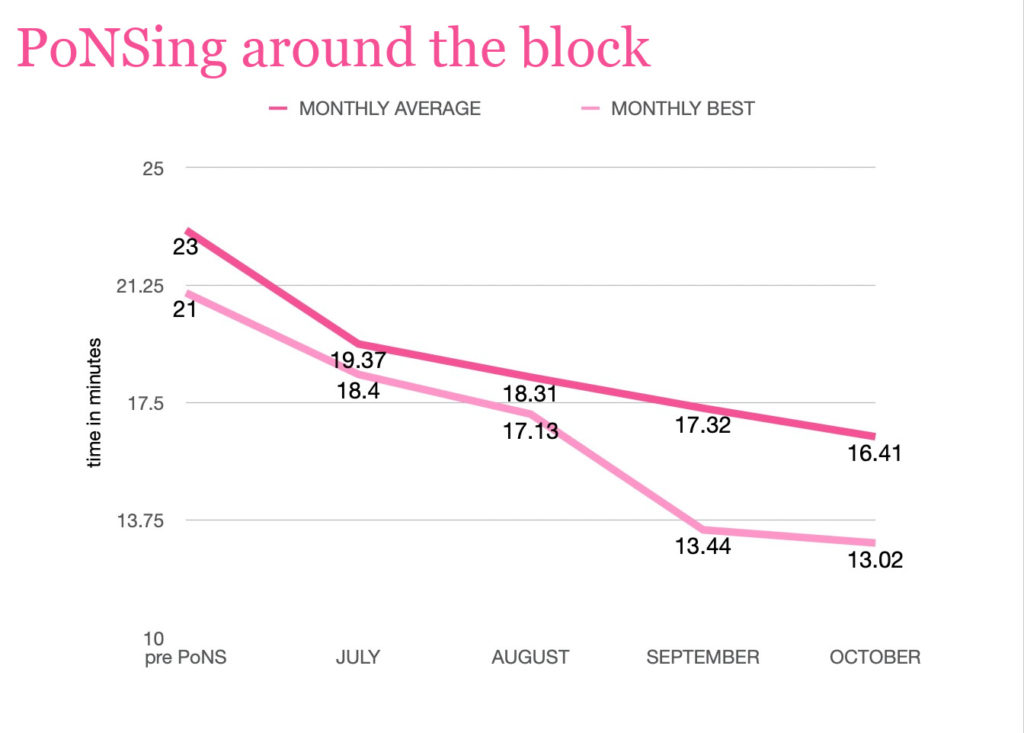 I've been watching my body get slower and slower for years. My go-to proposition to the dark arts mostly consists of pleading for things to just stay the same. I'll be good. Just don't let me get worse and you can have my first born baby. You can have all my babies. You can have my Prada sunglasses and all my Sephora points. I'll even stop swearing if you just let me stay the same. I don't ask for improvement, because even in a deal with the devil, improvement seems like too much to ask; too much to hope for.
PoNS review: can PoNS help MS progression?
If you don't have MS, you might be wondering what's the BFD? I still walk with a walker and pee with a catheter. I still very-fucking-much have MS. But if you have MS too, well, I don't have to explain these results. For the first time in forever, my MS is changing for the better, with the intervention of a device whose only side-effect is that my hair occasionally gets caught in the hard plastic neckband.
So I ask myself, if this is what's possible in 99 days, what's possible in the next 99? And the 99 after that? What is possible for the future of my MS?
What are you saying? PoNS improves MS?
More research needs to be done. We all know that everyone's MS is different. PoNS isn't about overnight miracles; there's hard work involved and PoNS isn't going to do it for you. But there's reason enough for me to believe PoNS has contributed substantially to my improving mobility.
If you want to know how to get your hands on your own PoNS device you'll have to do some googling. I've reached out to Helius with a number of Qs, but the PoNS pusher who first contacted me—a guy who genuinely seems to care about people with MS—sadly, no longer works for Helius, and my line of communication has been cut off.
Helius has every right to make as much money as they can from their product (yay, capitalism). But, PoNS can change the lives of a few people or it can change the lives of many. While PoNS waits to qualify for the medical device status it deserves, people with progressive MS will continue to wrack up disability. We don't have the luxury of time on our side.
While I feel very lucky to have participated in this research, as trial participants, we've invested considerable time, effort, leaps of faith and the significant cost of intensive physio–investments that will contribute to the eventual approval of PoNS as a medical device.
Helius, you're not taking my calls, but I know you're reading this. Please do the right thing and make PoNS available to more people with MS. I urge you to allow your study participants to keep their devices once the data has been collected (a gesture which costs you nothing), and to reconsider your extraordinary cost increase.
I'd love to hear from other PoNS users. Some of you have reached out privately, but if you're comfortable sharing in the comments, I know others will benefit from your perspective.
I've been without PoNS for a couple of weeks now, but I'm not willing to plateau. I set fire to my credit card and invested in the device and a stockpile of as many mouthpieces as I could manage before prices go up at the end of the year. I'll start PoNSing again, when my new device arrives, and I promise to keep you posted.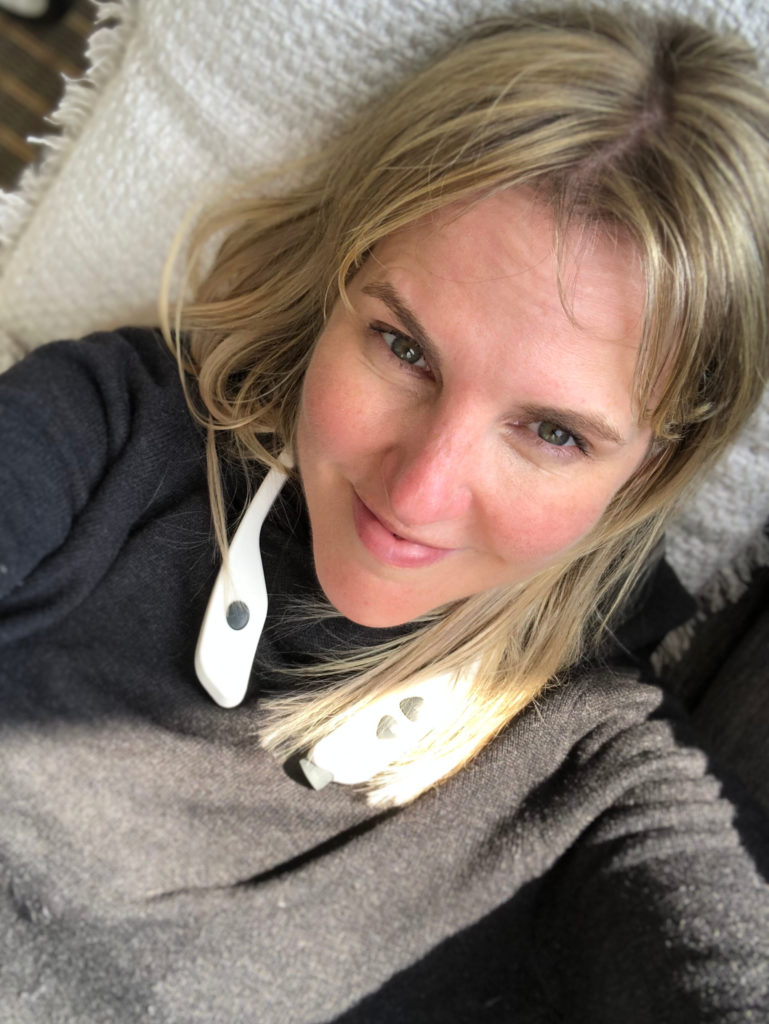 Keep moving, Trippers. There's hope on the horizon.