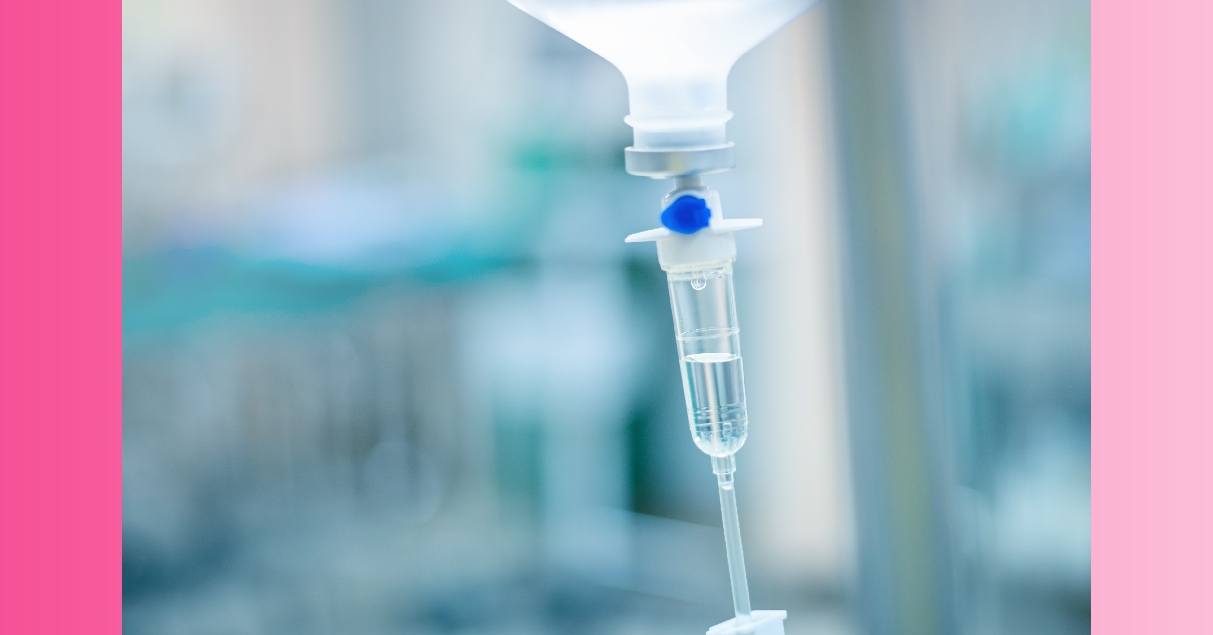 Diary Of An MS Relapse
In an attempt to calm down my MS I've been riding a rollercoaster of steroid-induced psychosis these last few days. 
Warning:  This is some Girl, Interrupted, peek into my brain on drugs, shit. You don't need to call any hotlines. I dipped my toes in crazy for a few days but I'm fine now. Just, read at your own risk. This is what it was like for me to get steroids for an MS attack.
Dear Diary, Shit's about to get weird. 
Day 1
Get up early, put on a cute hat, get coffee and head to the hospital. There's a slight chance my incurable disease could see some relief, so today's a good day. 
Steroids are hard, but this time's gonna be different. This time, I'm gonna be the perfect patient. I'll wear pink pyjamas to match my pink, puffy, face and it'll be adorable. I'll be like, guys, I'm so sorry if I freak out and try to destroy you when the drugs hit me, but really, I know everything's gonna be fine and everyone will be like, Wow, she's got her shit together. Look at how awesome she did. High five!
Day 2
My infusion nurse arrives at my home and asks if anyone else is around that could unhook my IV so she won't have to come back. I tell her to ask the dog and she looks at me like I'm the unreasonable one. When she does come back she offers to take my vitals and flush my vein "if I want". 
By midnight, my tummy hurts and my bones ache but I don't complain because it's worth it. 
The paltry AF sleep aid I was given barely makes my eyelids heavy, but I decide to embrace it and get shit done. Write the best blog ever, read all the things, learn to speak Russian. It's like I'm on speed, but with no down-side. 
Day 3 
Look in the mirror and decide my pie-face makes me look younger, because I'm a glass half-full kinda girl. 
So far no benefit from the steroids and that's making me anxious, but there's still time. 
It's my last infusion and my lazy nurse asks me if I'm comfortable taking out my own IV. Again, I refer her to the dog. 
Day 4 (morning)
Infusions are over and I'm not tethered to a pole anymore. I could shower, but I don't. I mean, I feel okay, but not shower-okay. 
In fact, I'm a bit dizzy and I realize I'm weaker than I was pre-steroids. Not a good sign. 
Give myself a quick sponge bath and get a ride to the salon for a blow-out so I won't have to lift my own arms to dry my own hair. I tell myself the worst is over.
Day 4 (afternoon)
Appreciate the feeling of clean hair for 7 minutes and then crush my blow-out by going directly back to bed for 5 1/2 hours. 
Wake up and feel sad it's still light out. 
Cancel plans for a rooftop hang with my Ginger Bestie and her BF.
Day 5 (morning)
Wake up and realize I can't move my right leg. Panic a little.
Text The Banker, who got up hours before me and is in the next room, to come and help. He kisses me good morning (it's lunchtime) and then patiently bends and straightens my leg until it feels limber enough for me to use it.
Step on the scale and wonder how it's possible to have gained 6 lbs overnight when all I ate was saltines and half a banana. 
Cancel plans to attend Canada Day BBQ with more besties and my sweet godsons. 
Experience increased feelings of FOMO. 
Day 5 (afternoon) 
Make coffee. Pour it down the drain because prednisone makes everything taste like poison. 
Decide steroids have not helped and that I'm ready for my Make-A-Wish.
Feel too sad to think of any good wishes. 
Scan Spotify for a playlist that will match my mood. Find nothing in the genre of Devastating Illness Ennui. Briefly consider one called All the Feels before deciding that anyone who uses this phrase should die.
Day 6 (morning) 
Accidentally knock over a bag of garbage and decide not to pick it up. Ever.
Decide I hate everything, throw out half my stuff and then wonder what I can buy to make myself feel better. 
Cancel plans to attend a holiday BBQ in the 'burbs. 
Make a note to stop making plans. 
FOMO's at an all-time high.
Day 6 (evening) 
The Banker is hiding in the storage locker with the dog asking Siri if Werewolf/Vampire rules apply to Solu-medrol Beast People. 
After holding back tears and trying to suppress a full-on meltdown all day, decide that confronting the loss of mobility is actually a pretty reasonable excuse for a meltdown. 
Call my parents and try to get them to meltdown too. Meltdowns for everyone! 
Day 7
Congratulate myself for not being a drug addict or an actual alcoholic because it's really tempting to not wanna feel any of this. 
Decide extreme sadness is not sustainable and brainstorm ways to pull myself out of this hole. 
Download a meditation app. Don't open it. 
Decide to feel grateful that my tummy hurts less than it did yesterday, that my coffee no longer tastes like arsenic, and that I still, probably, have friends and a husband, somehow. 
Allow myself to grieve what I'm losing. Know that somehow, I will come to terms with this fucking nightmare. 
Make plans for the weekend and keep going. 

Follow
Tripping On Air
on Facebook and Instagram.