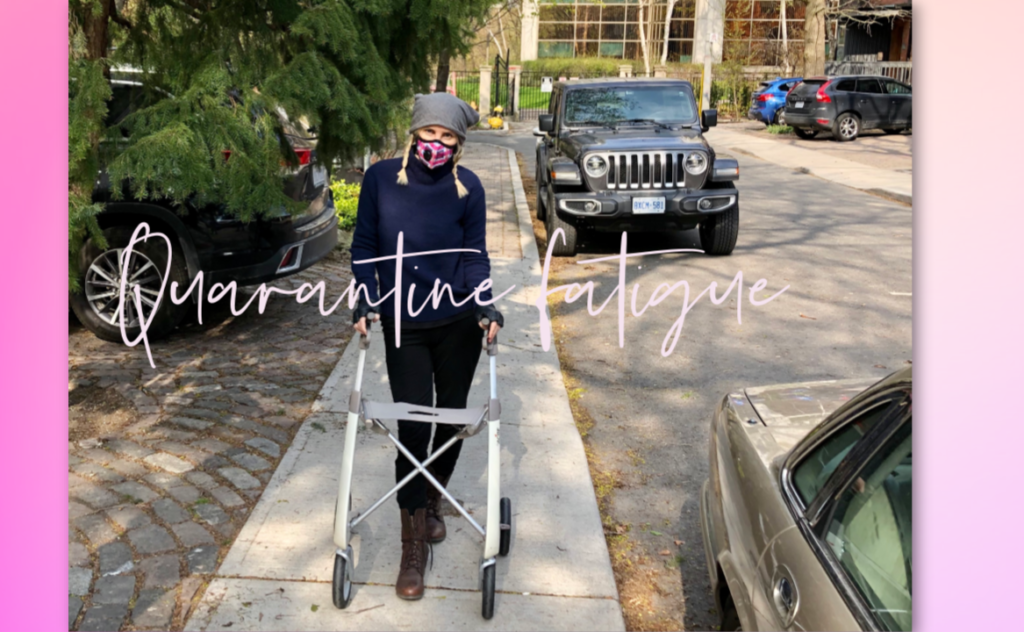 Remember when I bragged about not freaking out about the apocalypse because having had MS for 19 years has trained me to roll with life's uncertainty? Well, that was 59 days ago. I was 70 years younger then. My bluff has been called and quarantine fatigue has announced itself with a teary, boozy meltdown.
Out of an abundance of caution – I know what a cold or flu can do to my MS; I am NOT getting COVID – I hadn't left my apartment in 56 days. For the most part, it's been fine. Well, manageable. I like my apartment. I like my husband. I'm grateful for the things we're supposed to be grateful for; food, shelter, track-pants. I've put my head down and focused on doing what needs to be done to keep myself and others safe. 
What I'm beginning to understand is that safe basically means alive. It doesn't necessarily mean healthy. While I've successfully (so far) guarded myself against COVID, my overall physical well-being has taken a hit, and as for my emotional health, well, let's just say I'm starting to come a bit undone. 
The physical cost of quarantine for me has been lack of physio, sunlight, sleep, and exercise. I'm not getting the infusions I've been prescribed to help calm down my MS. Happy hour is happening earlier and more frequently, and I don't know what the hell happened to my Whole 30/FMD diet, but I am aware that in the absence of the normal things that bring us joy and pleasure, filling that void with baked goods and Miss Vickie's is an easy fix. I've lost many things because of the lockdown, but what I've gained is a steady 3-5 pounds.
The emotional cost of quarantine is harder to measure. I should be in DC right about now, with a fresh mani and a new dress, to speak at the MS Society's On The Move event. Instead, I'm wearing an 8 year-old t-shirt with a hole in the armpit, staring at the fingerprints I've left on the wall, waiting for the next Zoom party to give me an excuse to brush my hair.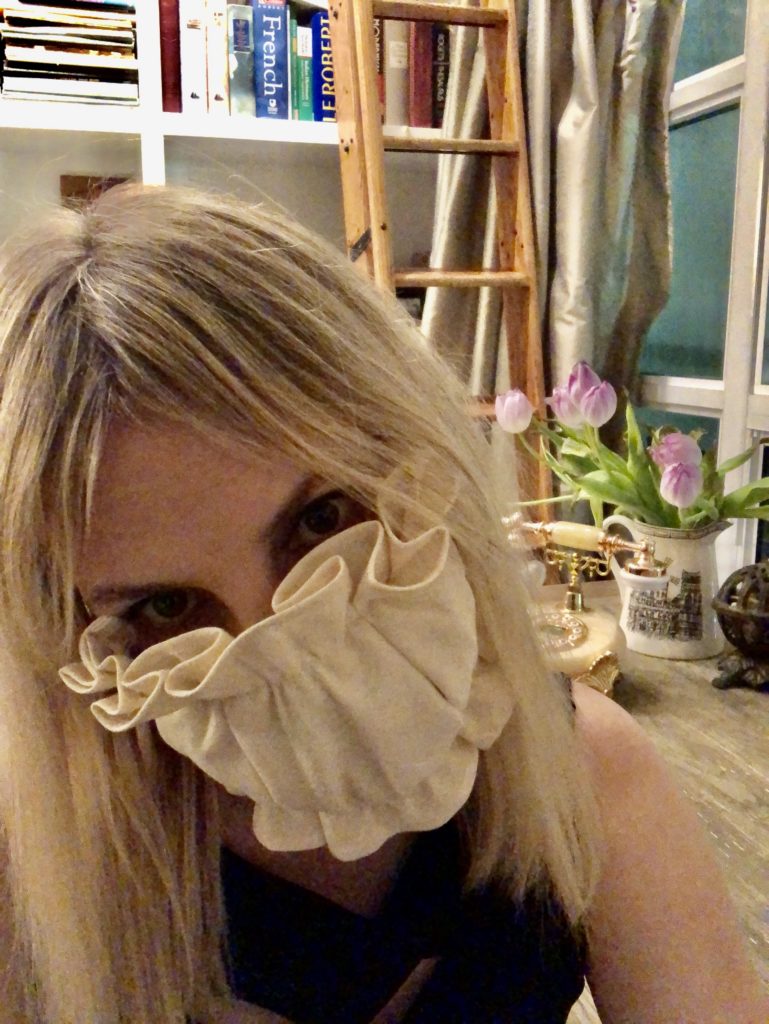 On Friday, The Banker announced he's been mandated to continue banking from home until the end of July. And I was like, duh. No surprise here. But the reality is sinking in as I started to do the math. We've been doing this for almost 8 long weeks. The end of July is 11 weeks away. We're not even at the half-way point. And I am starting to lose my chill.
I'm trying to be brave and resilient and thankful, but quarantine fatigue is real. I know there are many struggling more than I am, but that doesn't make me feel better. It only makes me feel like a spoiled selfish twat for complaining. After waking up Saturday and feeling that Oh right, it's Groundhog Day, please don't make me go to the living room again pit in my stomach, I grudgingly decided to face the day. Even though it fucking snowed—in the middle of May—I managed to ignore my feelings of anger and frustration and sadness. Or so I thought. When evening came and The Banker noticed I was moving with a little more of a Frankensteinian vibe than normal, he offered to help me with some stretching. 
I don't know why this loving gesture is what triggered the tears that lead to the tequila, and a decision to get me out of this apartment the next day. Maybe it's that I don't want my husband/coworker/roommate/housekeeper to also now be my physiotherapist. Maybe it's that I'm tired, and need a decent night's sleep. Maybe it's that feelings don't go away, and the only way out of them is through them.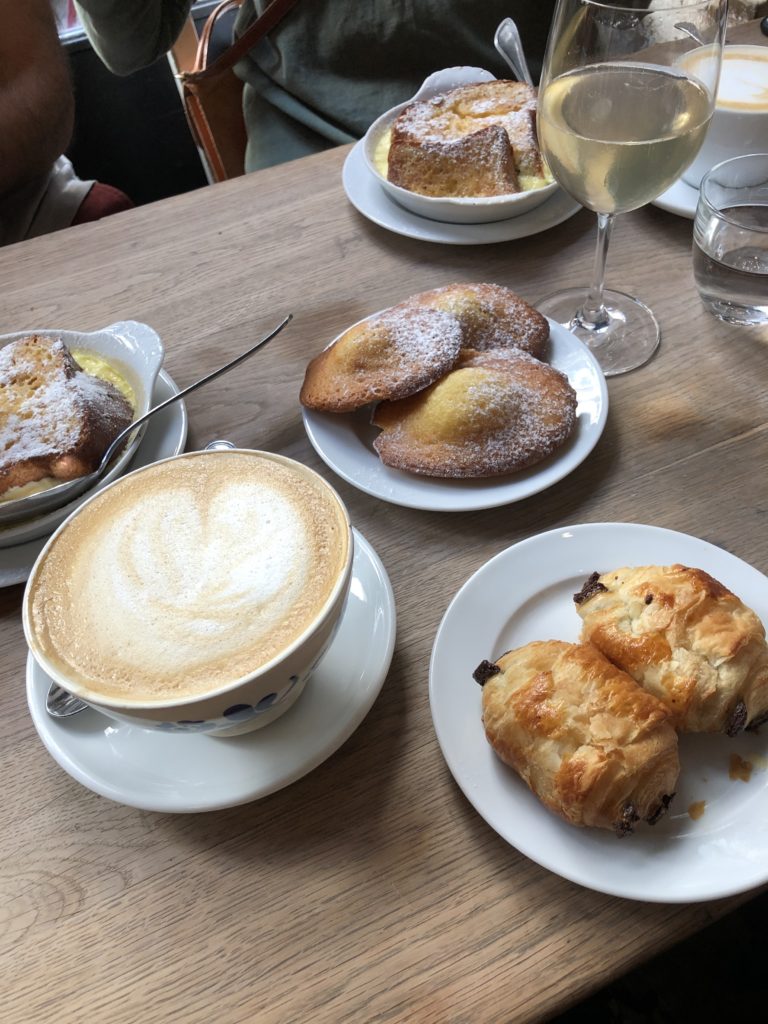 Even before my health was a factor, I've always been the kind of person who wants to get the most out of life (check my Insta for the receipts). My MS diagnosis jacked-up my seize-the-day MO. MS has cost me so many things, I live by the mantra: If not now, never. Because, as hard as it is to write this, the realist in me knows, with a gut-wrenching certainty, that my strongest days are behind me; that my MS gets worse. That doesn't mean I don't realize there are lots of things I'll figure out how to do as MS progresses and continues to slow me down; only that I endeavour to do as much as possible on these two legs while I still can.
There are two Stay Home narratives cruising around the interwebs right now. There's the bossy directive to shower every day and pour yourself into new hobbies; learn a language, start a garden, write a novel, whatevs. That was the first thing we were told to do. The second narrative is the backlash that recognizes we are all in shock and grief. It's the narrative of self-care that tells us to free ourselves of the pressure to do or be anything right now; to allow ourselves to grieve and eat banana bread and just exist.
I get it. I see both sides. COVID happened so fast. It was a stunning reminder that anything – ANYTHING – is possible, and that nothing is guaranteed. I feel punched in the throat with the warning of how little time any of us has, and I don't want to just pass the time. Even if it's a really shitty time.
Because how can I rationalize wishing away time when this is the time that I am still walking? Still able to speak? It's hard not to feel like I'm using up all my last, best days of semi-functional legs in this tiny apartment, waiting to start living again.
If my philosophy of carpe-ing the fuck out of every god-damn diem holds up, how do I make this time count? Even as things start to open up, COVID isn't close to being over. How do we make sure we're still living and not just existing?
This. Is. Hard.
I miss my life! Is what I want to say, but this is still my life. Somehow, I have to normalize this.
And so, yesterday, I finally left the apartment. After 56 days of looking at these four walls, I put on my military-grade face mask and braved the elevator to the underground. The Banker took me for a drive to remind me of what the outside world looks like. We parked on a quiet street where I could walk for the 15 minutes my legs would carry me – about 13 consecutive minutes more than they've carried me in the past 56 days. I was stiff. The walk was difficult and disheartening, and…good. I went out, and I will go out again. I will keep living.