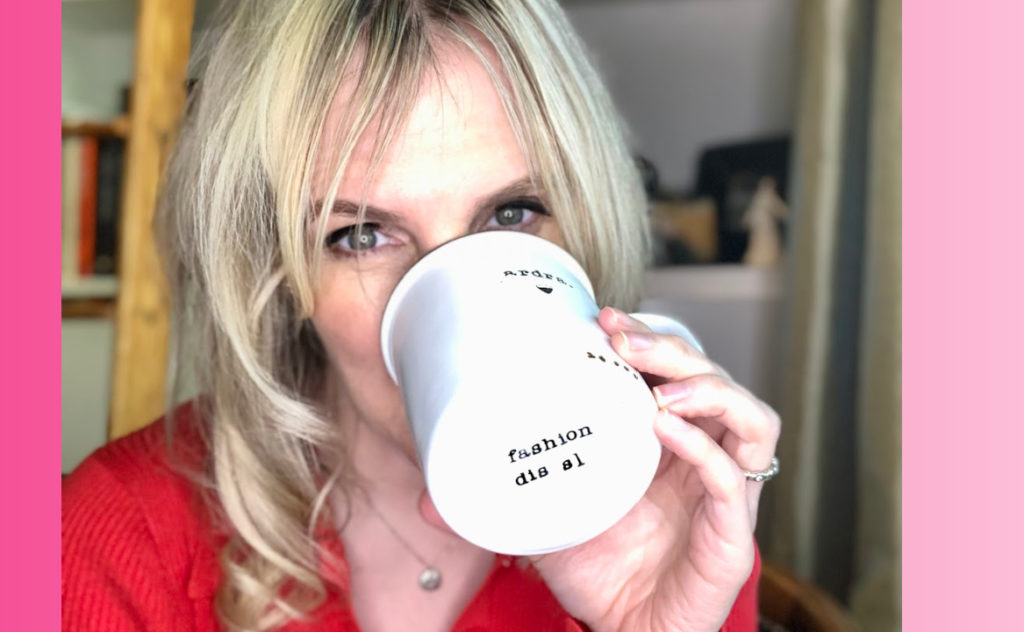 The Best And Worst With MS in 2022
It's time to pour one out for 2022 with a good old fashioned listicle. This is my personal year-end wrap-up of the best and worst of what went down in 2022.
My year in numbers:
New MRI lesions: 0
Broken bones: 1
Road trips: 3
Number of times I slept through the night: 4
Most consecutive days without washing my hair: 6 (okay, 7)
Doctors appointments: 17
Books read: 37
Dollars spent on adhesive foot warmers: 361.50 (Little Hotties, please sponsor me)
Steps taken: 282 145
Nieces and nephews hugged: all of them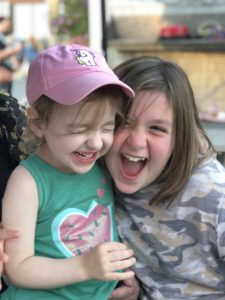 Celebrities with MS were a hot topic in 2022
Most read blog post: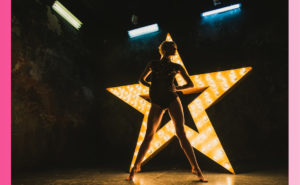 How people with MS really feel about Selma Blair
Most popular social media post: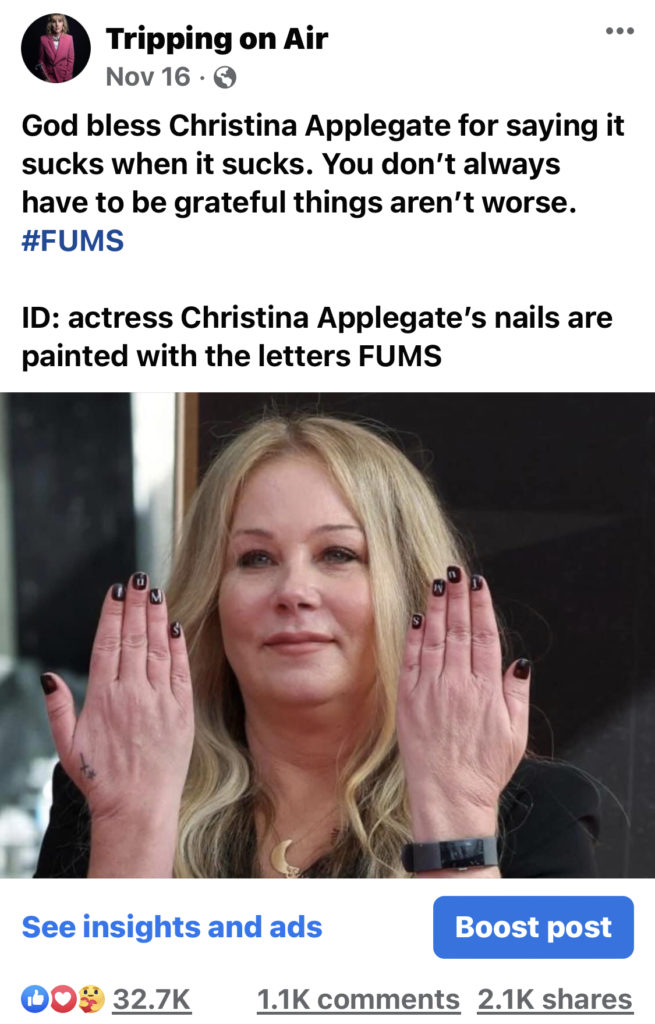 My biggest MS challenge in 2022: fatigue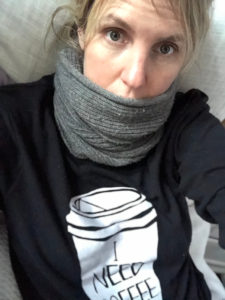 This is the part where I'm supposed to tell you to be gentle with yourself. Go lie down. While it's true I've never met a bed I didn't want to take a nap in, we can't say 'fuck it' to everything we don't wanna do or the kids will die and the dog will be left in charge. I overdid it more than once this year, and I'll tell you what I told Dan and Jen Digmann, overdo it on your own terms.
Biggest success: Fashion Dis
I still kinda can't believe that an idea of mine was actually developed into a television show. Like, holy shit. This is real. And we're about to start filming Season 2!
Biggest bummer: Osteoporosis
I fell and fractured my back earlier this year. I'm fine now, but the fracture led to the discovery that I have Secondary Osteoporosis. If you have MS, bone health should be on your radar. Add a bone density scan and a vitamin D level checkup to your list of New Year's resolutions. Dairy is a hot topic in MS diets, so whatever protocol you're on, make sure you're getting enough calcium.
Best new MS therapy: Horseback Riding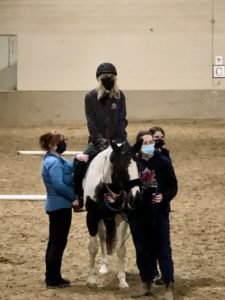 I had a vague idea that equine therapy was a thing that people with MS did, but as a rollator-user I thought I was too disabled to get on a horse. I was wrong. This therapy is the bomb. I'll write more about Picasso and the gang soon.
Most proud of: Butt Stuff
I want to say Fashion Dis. I'm pretty proud of the new Tripping On Air podcast too. But what I'm most proud of in 2022 was getting the colonoscopy I'd been putting off for two years. Thanks to my MSy neurogenic bowel, I felt like prepping for a colonoscopy would be inviting a nightmare, but it wasn't as bad as I'd thought. Top tips: I did the picolax protocol and got an afternoon appointment (play the MS card) which meant I could take the first dose at 5pm the day before my procedure, get some sleep, and take the second dose at 7 the next morning. The procedure itself gave me the peace of mind that my tummy troubles are MS-related IBS and nothing more nefarious. The doctor also found 5 polyps. NBD. Get your screenings, Trippers.
What's up 2023?
If resolutions aren't your jam, rest assured that I will co-sign any refusals to make miracle MS cures part of your 2023 vision board. You can read Bezzy's latest Ask Ardra column: Why New Year's Resolutions Have Nothing To Do With MS here.
Fashion Dis starts filming again this month, so if anyone needs me, call my PA.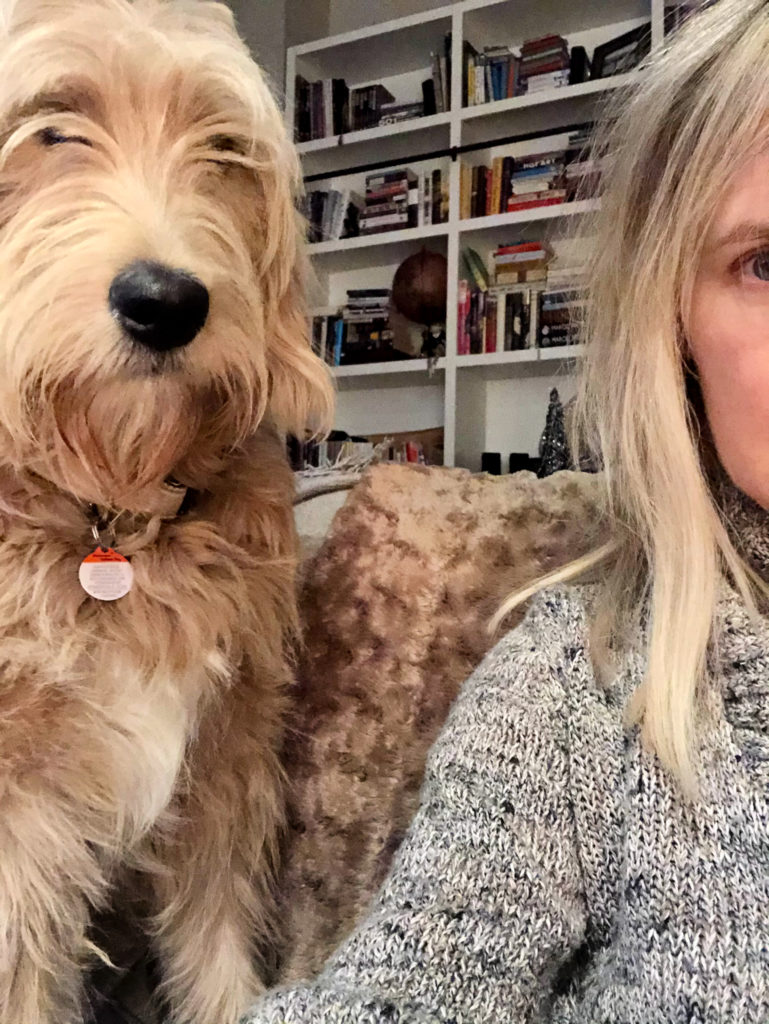 On the pod
We're halfway through season one of the Tripping On Air podcast! We've talked about parenting, disability benefits, dating and the worst symptom of MS. It's been such a thrill to interview some of the people I most admire and others I outright Stan. Our next episode drops January 5th, and it's a big one. We're speaking with actor, comedian, and writer, Zach Anner, and he is just as funny, lovely, and wise on the pod as he is all over television and the internet. If you're not yet familiar with Zach, here's a quick peek.
It's my Birthday Month!

Finally, January is my birthday month and I'm not too proud to ask for presents. Please consider subscribing to the pod, or leaving a review. Your support means so much.
Happy New Year, Trippers! What's on your year-end list? What are you excited about it 2023?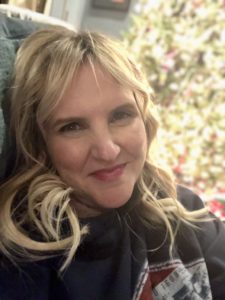 Follow Tripping On Air on Facebook, Youtube, Insta. Subscribe to the blog and never miss a post.