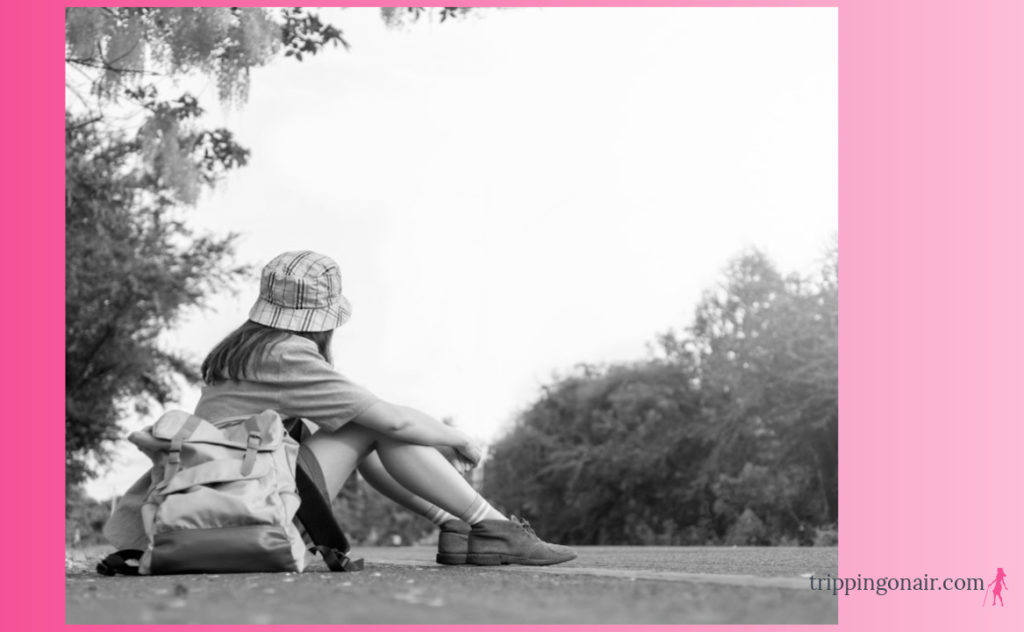 My latest MS meltdown happened inside a trendy motel in the middle of nowhere Northern Ontario. The Banker and I were on a 2-day mini-break, but the break I really needed was from my body, and my body was like, "Yeah, that doesn't work for me. I'm saving up for one of those tiny Lizzo bags, so I'm actually working overtime. I'm on my way downtown right now to see if we can't squeeze in another UTI. See you at 3 am for our nerve-pain appointment! 😘 ttfn! Just kidding! It's time for your leg to spasm! PAY ATTENTION TO YOUR BURNING FEET!"
Anxious about my incapacity to do anything remotely vacation-y and feeling guilty about spending money just to lie around and look at four different walls, my headspace was primed for a freakout 45 minutes after The Banker had not yet returned from picking up dinner at a restaurant 3 minutes away.
The obvious move would have been to text 'u alive?', but my phone was being charged on the other side of the king-sized bed. If you're like, 'just scootch over and grab your celly,' congratulations; your body works better than mine. Retrieving my phone would have meant pushing myself up into a sitting position, using my arms to swing my legs off the edge of the bed, standing up, and using my rollator to lumber stiffly to the other side. What should take 4 seconds would have taken me 2 minutes, and maybe 2 minutes doesn't seem like a long time to you (congrats again), but according to a math website I just consulted, 2 minutes is a 2900% increase in the energy it would have required me to spend in order to secure peace of mind.
I decided to weigh the risks instead
On the one hand, The Banker is slow (not like stupid-slow, he just lives in his own decelerated time zone and talks to absolutely everyone). He also sucks at directions, even with gps. In all likelihood, he had accidentally taken the scenic route or was chatting with the restaurant staff.
On the other hand, I was in the mood to fuck myself up.
Maybe he got hit by a falling icicle in the parking lot. What if a bear, emerging from hibernation, attacked him for his take-out? Had he picked up a hitch-hiker, only to realize they have a lot in common, now they're best friends on a cross-country road trip and he's forgotten all about me?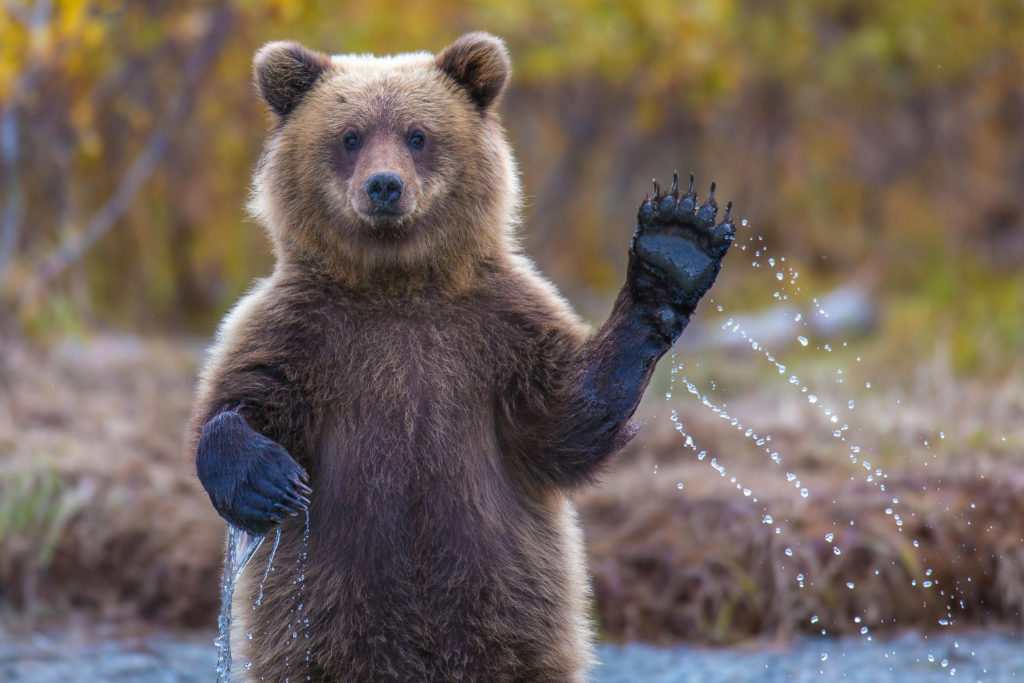 I was spiralling. Bears probably don't even like Pad Thai, but 15 people in America are killed by falling icicles each year. I didn't have time to dwell on The Banker's unfortunate fate because my brain was telling me it was time to switch gears and trouble-shoot this catastrophe.
Independence Day
I imagined getting a phone call: Ma'am, we found a man lying in a parking lot in a pool of water. We need you to come immediately. We've got a bear here, says he's allergic to peanuts so obviously he didn't attack anyone for their Pad Thai. Also, a guy with a stick and bag tied to the end of it. Name's Scoffpossum. Says he's next of kin.
I don't drive. The town didn't seem big enough to have Uber. Even if they had Uber Tractor or Uber Snowmobile and I somehow managed to get to the scene of the incident, what then? How would I get back home to Toronto? I'm not strong enough to put our luggage in the car. I'm not even strong enough to walk the dog, who was reading this situation and staring out the window desperately trying to manifest The Banker's return.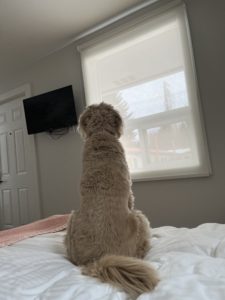 Miss (no longer) Independent
I felt incapable. Three hours from home, trapped in a motel, Misery-style; but in this version, MS was my Kathy Bates. I felt like a child, and not even the child-version of myself, because I was a pretty self-sufficient kid. Like one of those Japanese kindergarteners who takes the subway and does the family's taxes.
I am grateful to know that there are people who are more disabled than I am who CEO their own lives, organizing and managing their care with agency and authority, who feel empowered for doing so. I know that I am an intelligent, resourceful adult and that given time to sort shit out, I would be able to make sure the dog was safe, that there were groceries in the fridge, that the bathroom was clean enough. Being bossy and in charge is kind of my thing.
If an emergency had occurred, people would have helped me. Just different people from the person who already helps me the most. My MS progression has been slow and insidious. The list of tasks The Banker helps me with didn't materialize all at once, but gradually; somehow making it easier for me to convince myself that I am more independent than I actually am. My meltdown was a reality check. Being disabled means needing help is inevitable. My Doomsday preparation plan needs to include being comfortable receiving help.
Easier said than done
Culturally we associate dependence with being weak and powerless, a burdensome problem for someone else to solve, while independence is seen as not just a goal or a lifestyle, but a virtue. We talk about earning a living as if being alive doesn't automatically grant us the right to exist. Quality of Life questionnaires quantify satisfaction by how independent we perceive ourselves to be. We try to trick the old and infirm by using palatable language that reinforces the need for self-reliance. "Independent living" is a marketing slogan that, like "anti-aging" only reinforces our fear; a reminder of what we're trying to avoid. Self-sufficiency is appealing, but why? How can we decide that 'don't rely on anyone, you can only count on yourself' is the best way to be when each and every one of us would die without the ability to rely on others?
Receive help like a Queen
True independence is a myth. You know who gets a lot of help? Oprah. Mariah Carey is probably the least independent person on the planet. Instead of branding independence as an inherently desirable trait, why not take a more neutral approach? Or get rid of the word entirely and replace it with what it really is: interdependence. We all need each other and we all have something to offer.
"No one can be independent of other people completely, so why not give up the attempt, she thought, go running in the other direction, depend on people for everything, allow them to depend on you, why not." -Sally Rooney, Normal People
It takes grace to ask for help and to receive it, but it's more than that. Being disabled forces me to be vulnerable, to mitigate a degree of defenselessness, and to have faith that others will have my best interest at heart. Figuring out how to comfortably receive help is not a choice, it's a survival skill.
On the pod!
This month's episode is a cheeky mix of fact and fiction as Alex and I take a deep-dive into 10 of the biggest myths about MS. Watch the episode here or wherever you get your pods. We 🖤 your subscriptions and reviews!
PS The Banker is fine. The restaurant effed up his order and he had to wait. Scoffpossum may or may not show up at Thanksgiving dinner.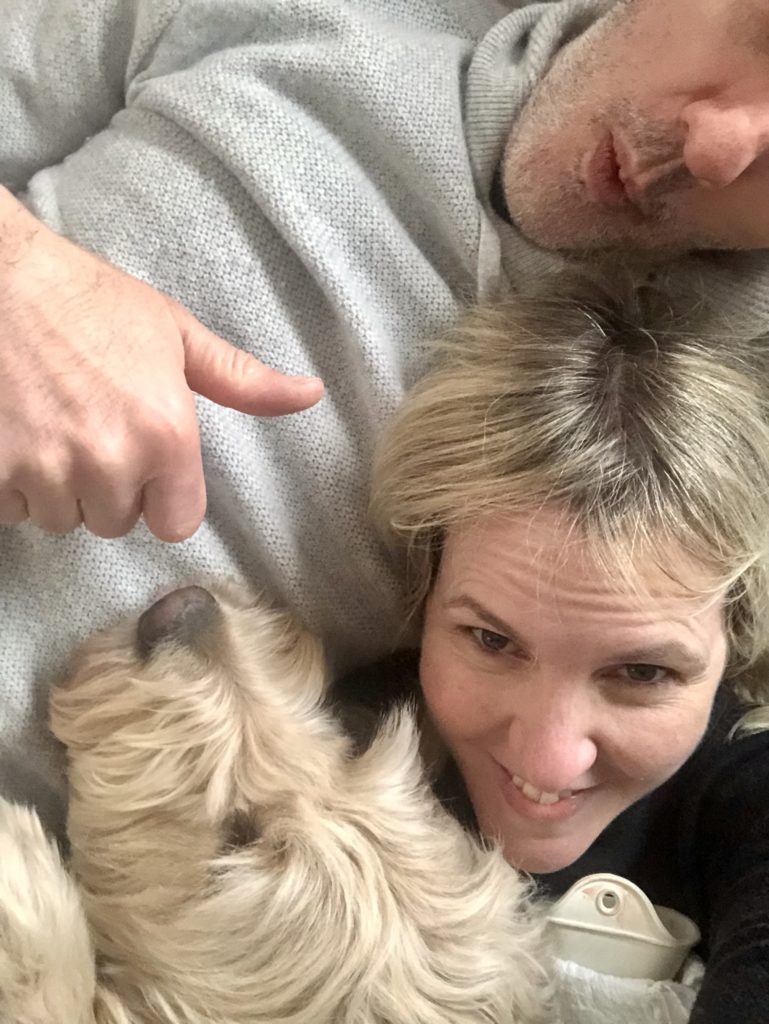 Follow Tripping On Air on Facebook, Insta, Twitter, Youtube.